Recently I had the opportunity to make two similar long trips the length of the country so I decided to make extra use of the journeys to make a comparison of the fuel types in my V6.
Before starting the the Premium fuel session, I allowed a full one and a half tanks to be used to ensure that the tank was only premium and that the engine had been working on it before the actual measurements.
First the trips:
Yellow was the Regular petrol, in August including the Bongo Bash mini-meet at Dent. I was carrying extra weight (5 tyres) Worthing to Dent.
Red was the Premium petrol, last week when I was providing cover and support for the Great Glen Ultra SuP Challenge for Phil my son. I was carrying a 14' SuP board on the roofrack to and fro.
Click the images below for a full size image.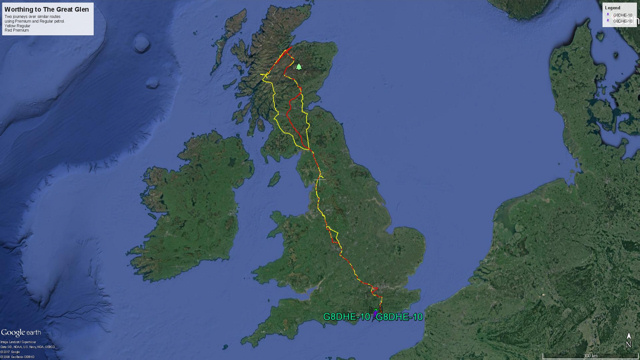 Below is the table from my ongoing spreadsheet for fuel comparison, again click for a readable size!

The two coloured areas on the righthand side compare the two trips, below is the same info;
Regular Petrol
23.69 mpg
1491 miles
£322.72 cost
£0.22 £pm
Premium Petrol
23.07 mpg
1598 miles
£374.60 cost
£0.23 £pm
So not a lot in it in terms of cost or performance between the two, neither of us whilst driving could identify any difference in power levels or performance between the two fuels either.