An alternative name I had in mind for this tour was "In search of the perfect kipper"

From the outset I have to say that this has nothing much to do with Bongos, except that we did part of this earlier in the year in our Bongo, and we've done some prior reconnaissance in the Bongo. And we drove to the station. In a Bongo
But the bit we did earlier in the year really did whet our collective appetites, so we were all keen to do the same again and more. Much more

I'll stress at this point that I'm no trainspotting anorak (and by that I mean trainspotting, not Trainspotting, more on that later). But the West Highland Line from Glasgow to Mallaig, over Rannoch Moor and through Glenfinnan is voted the top rail journey in the world, ahead of the Trans-Siberian and the Cuzco to Machu Picchu line in Peru. On our last trip (details
HERE
if you missed that) we only did part of the line, from Upper Tyndrum to Fort William, so with renewed vigour we were keen to see the whole thing. And how cool would it be if the section from Fort William to Mallaig was on a steam train – The
Jacobite
or the Harry Potter
Hogwart's Express
over the curved Glenfinnan viaduct - the only scheduled steam hauled train to run on the mainline in Great Britain.
And while we're at it, why not start at Settle in North Yorkshire, and do the iconic Settle to Carlisle route as well – this trip we've done many times before and is highly recommended.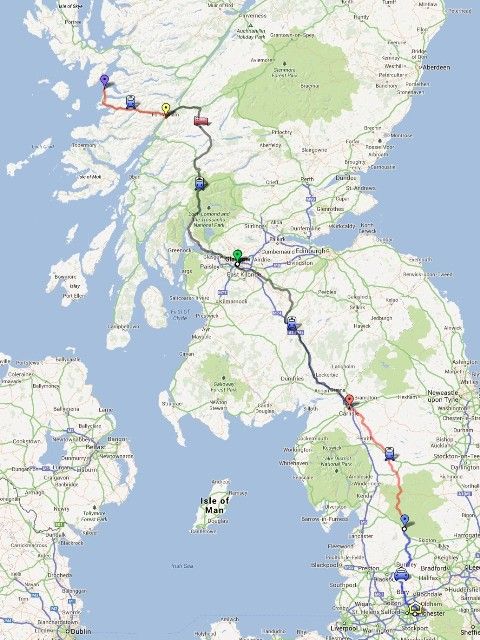 The Plan – printed before Google Maps changed the road colours and towed the Isle of Jura out into the Atlantic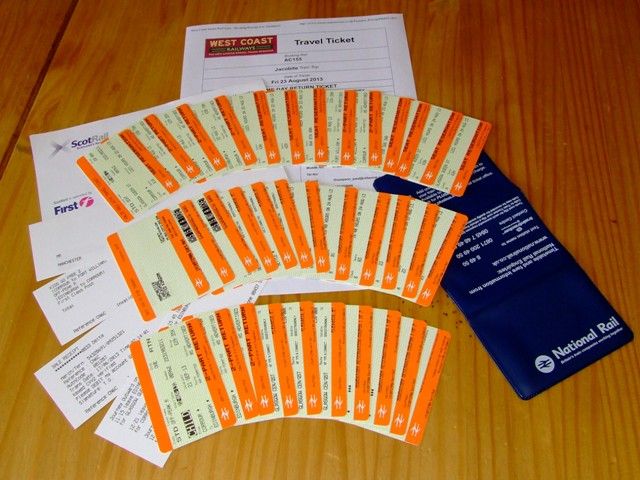 So, leave the Bongo at Settle and jump on a train!! "Two adults and a child to Mallaig return? Sure, have 40 tickets and a spazzy plastic wallet you won't be able to fit them all in"….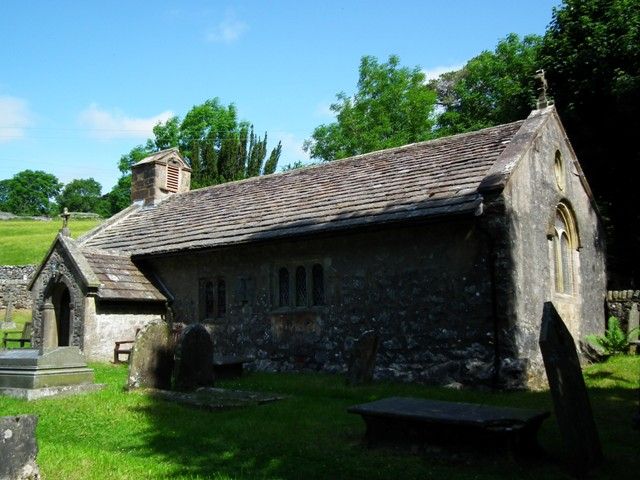 First, go to St Leonard's church at nearby Chapel-le-Dale where there are two memorials to the hundreds of people killed....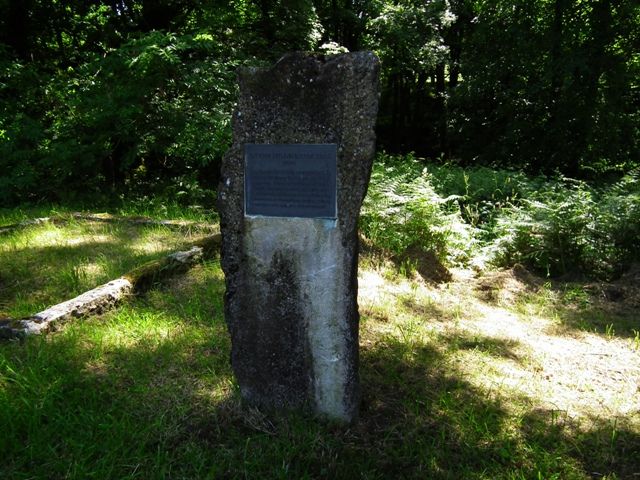 ....in the building of the Ribblehead viaduct and Blea Moor tunnel....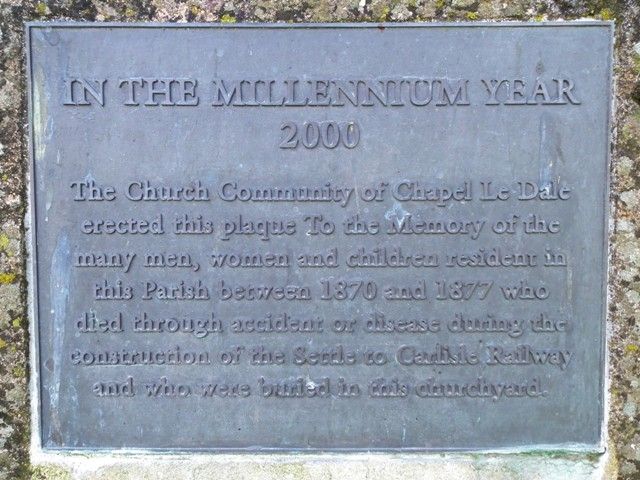 ....either through disease, fighting or accidents.
The original of this is in the National Railway Museum, York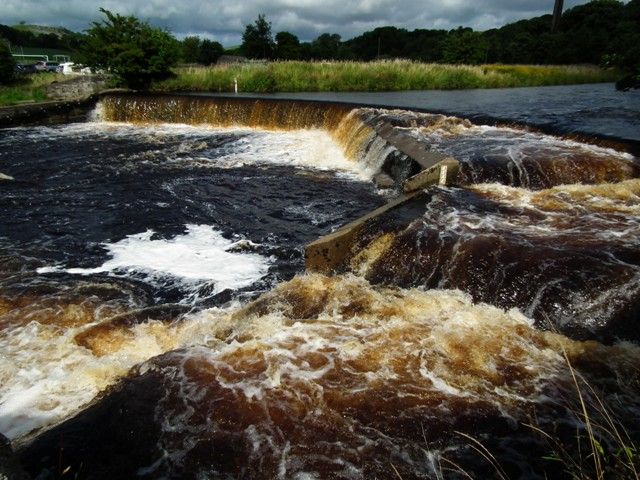 Then have a look at the weir & fish ladder in the Ribble at Settle....
....and the Settle Hydro 50kW reverse-Archimedean screw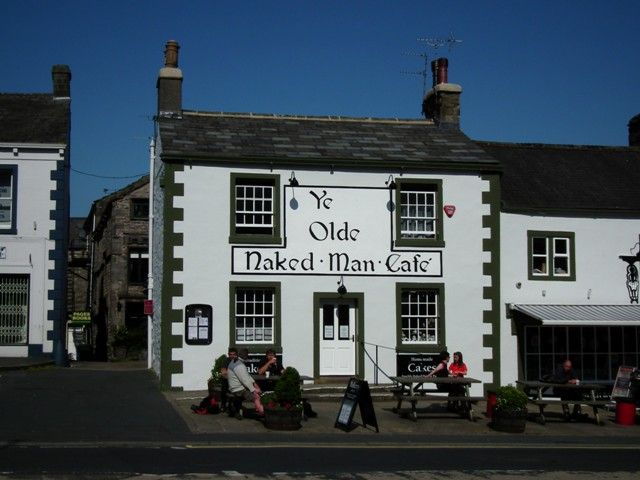 Next – nip to
Ye Olde Naked Man
in Settle....
....for some Yorkshire curd tarts – but beware spoonerisms

Then get to Settle station....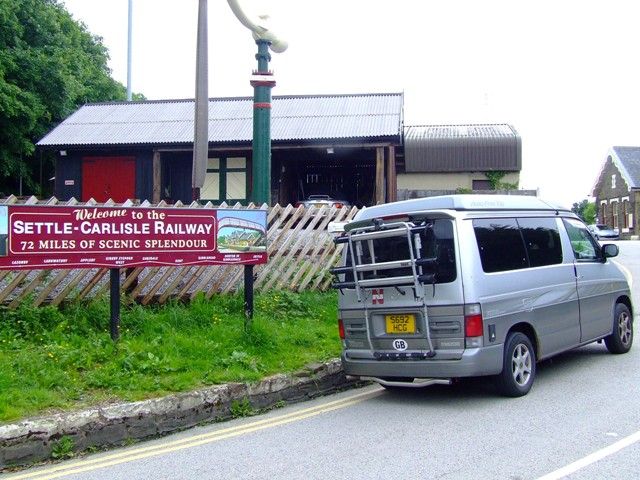 ....start of the fabulous Settle to Carlisle line built in the 1870s....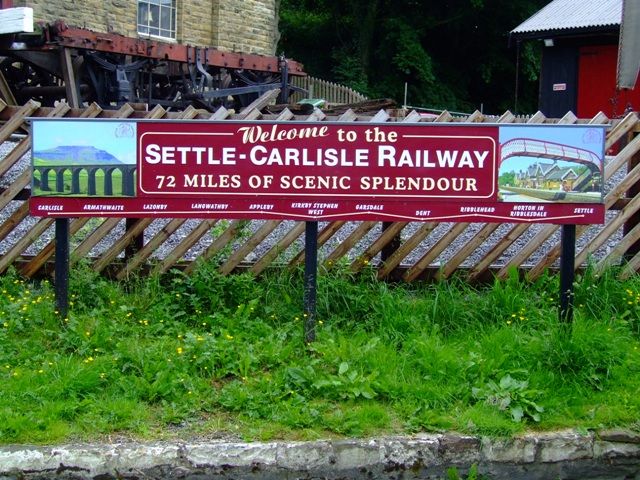 ....by the Midland Railway Company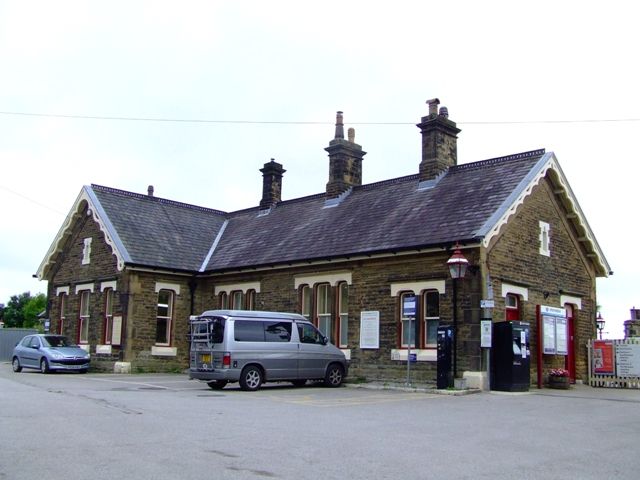 Park Bongy up here for a few days

All set, and without any support vehicle
....and onto the first train of the expedition
Ribblehead viaduct….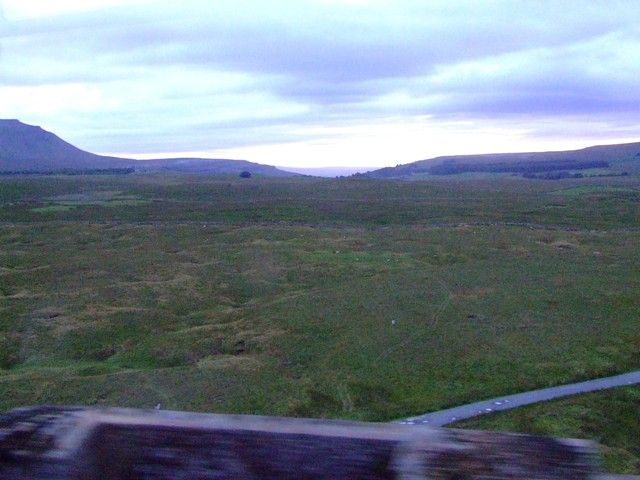 ....24 arches in total....
….the deterioration of which almost caused the death of the line in the 1980s
There's the remains of the construction workers' camps here, grassed over but still visible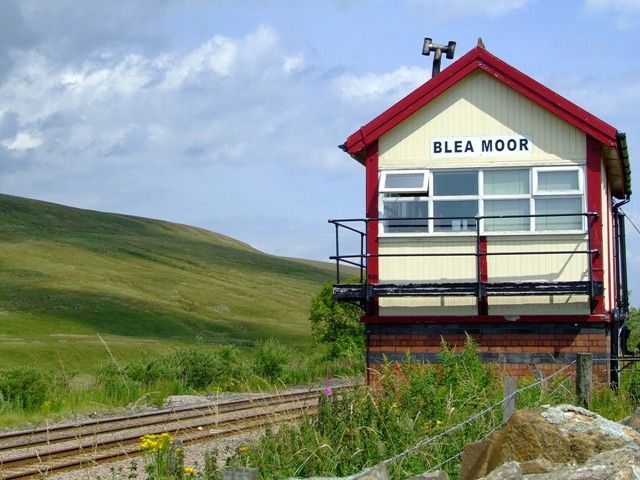 Then the run up to Blea Moor....
....here's the
Duchess of Sutherland
giving it the bifters up the hill, it's a 16 mile uphill slog from Settle into....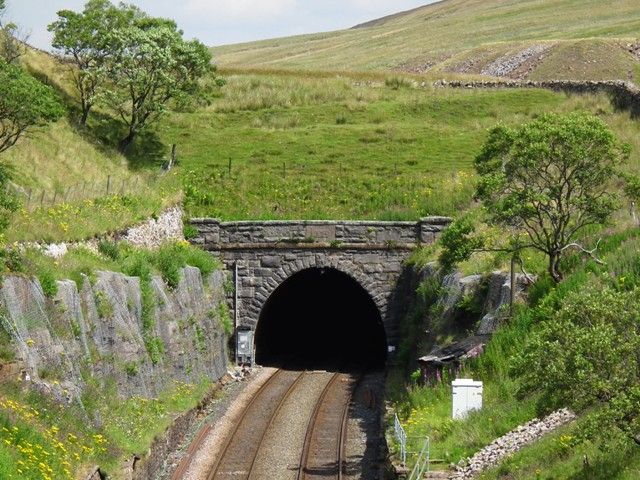 Blea Moor tunnel, at 2.4km long, the longest tunnel on the line….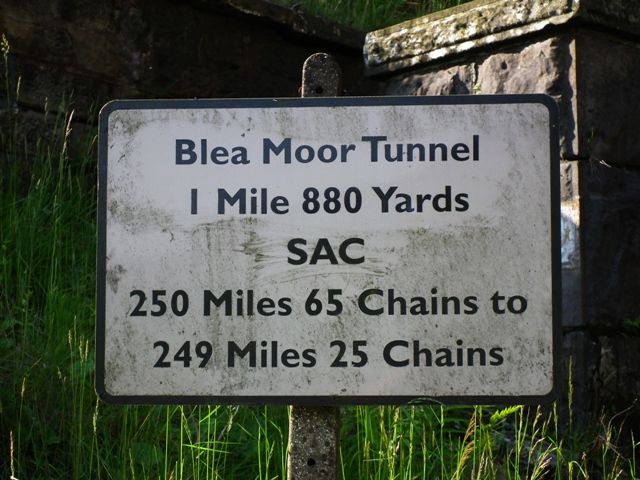 ….with some utterly useless information for the drivers
From the Ministry of Information, a chain is 22 yards so there's 80 chains to a mile. So 250 and 65 80ths minus 249 and 25 80ths is 1½. And 1 mile 880 yards is 1½ miles. So why don't they just say that or did they expect the drivers of the day to know these things?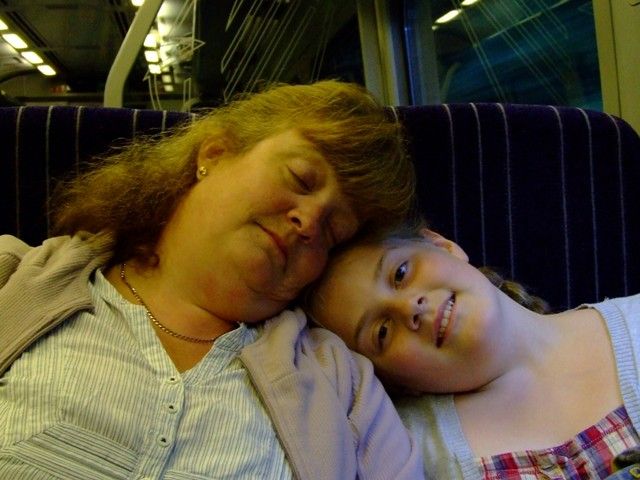 Let there be moonlight....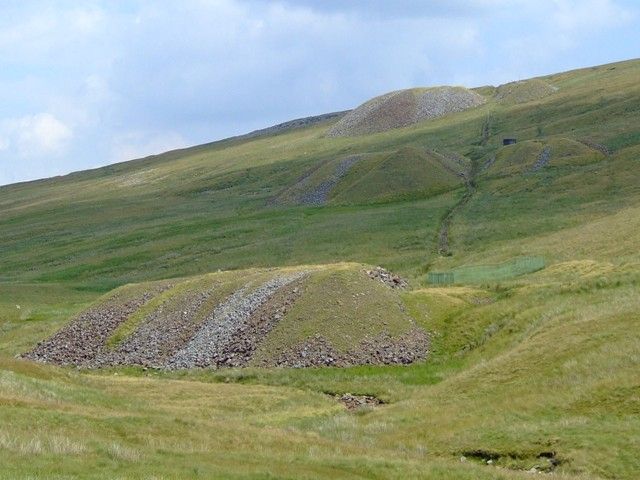 They used 7 separate construction shafts sunk from the moor above, the spoil still clearly visible 140 years later.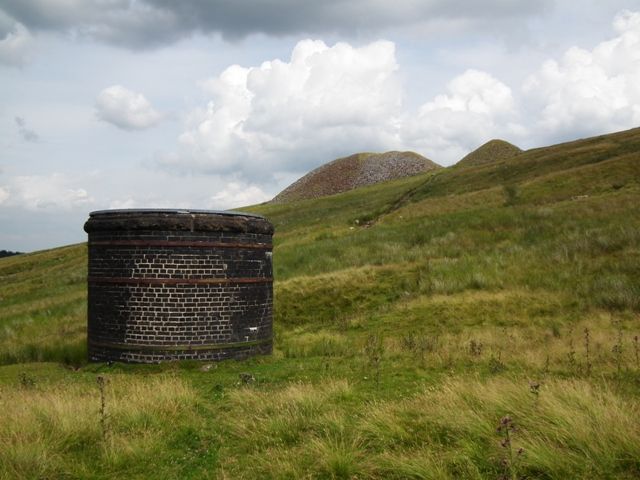 This allowed 16 gangs of workers to be used (one from each open end and two from the foot of each of the shafts). 3 are still used as air shafts – more spoil mounds in the distance.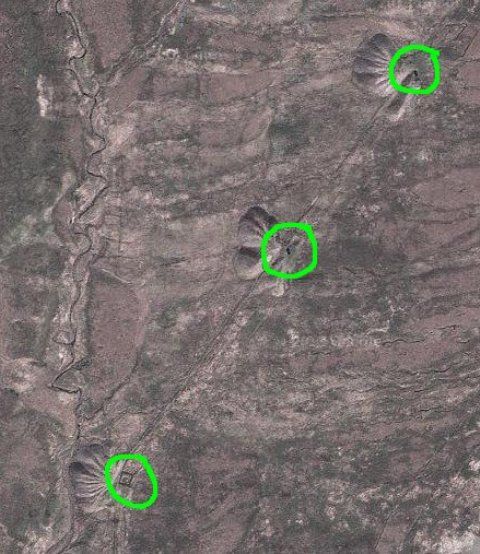 You can see all this plain as day on the Google Maps satellite image. On the bottom one they just put a square fence around the shaft to stop sheep falling in, on the next two you can see the air shaft casting a shadow over the moor. Go back two pictures and you can see the fenced enclosure on the bottom mound and the top of the air shaft next to the middle one.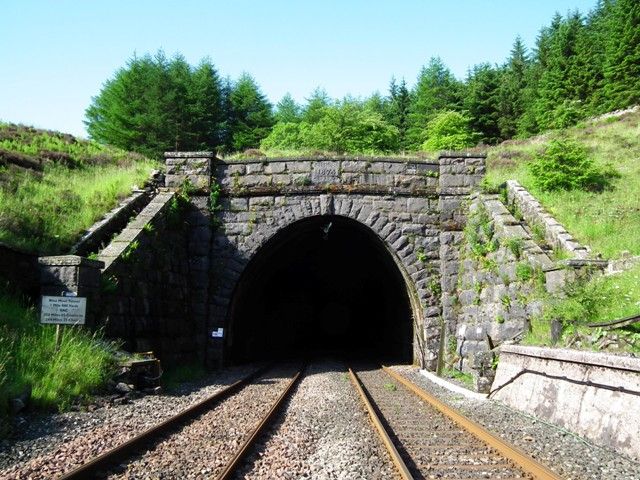 Blea Moor tunnel, north portal
Tart

Dent Head viaduct over the quarry that produced it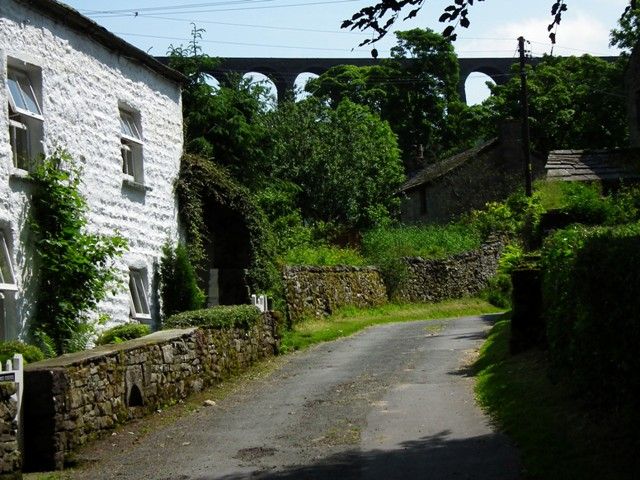 Artengill viaduct, seen from Stonehouse farm....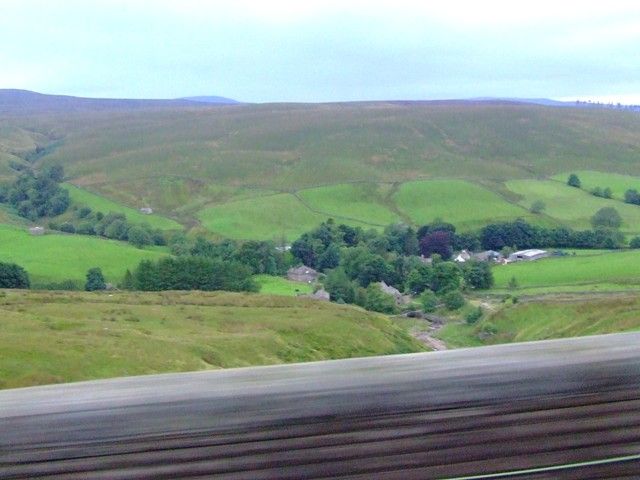 ....over Arten Gill Beck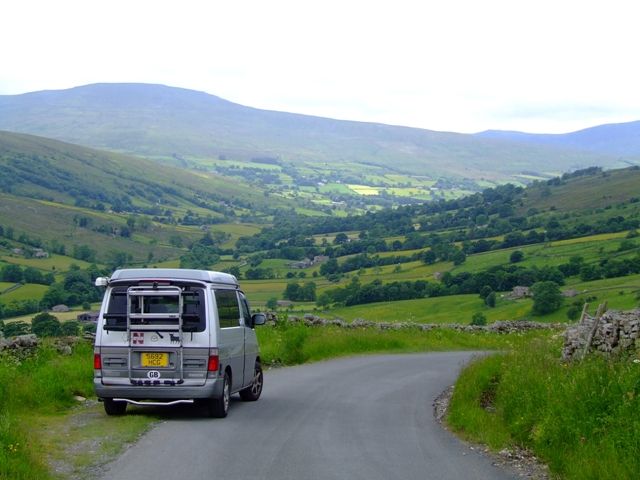 Dentdale (taken on one of several earlier scouting trips to get the other pics

)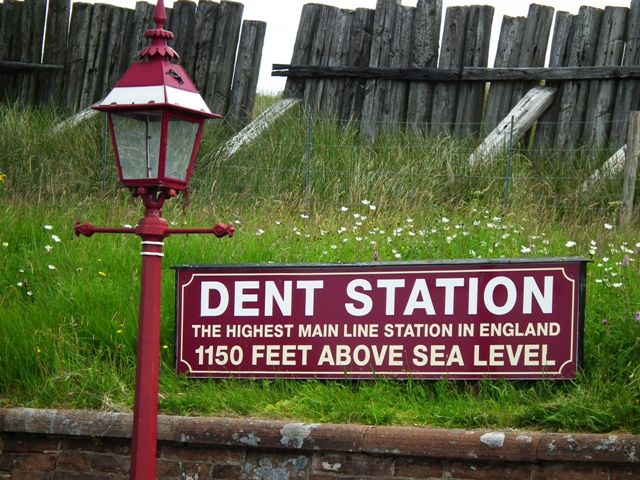 Dent station, nowhere near Dent but the highest mainline station in England at 1,150 feet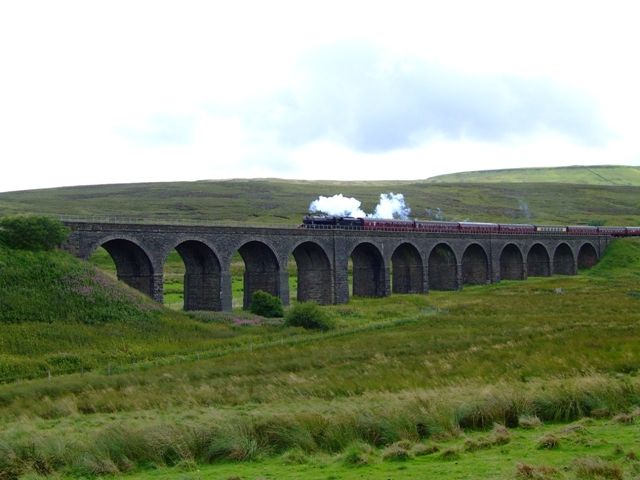 Dandrymire viaduct – originally to be an embankment until ¾ million cubic feet of earth had disappeared into the mire during construction
48151 just coming off Dandrymire viaduct, a preserved 1942 heavy-freight loco
Abbotside Common
Aisgill viaduct over Ais Gill Beck, the highest point on the line at 1,168 feet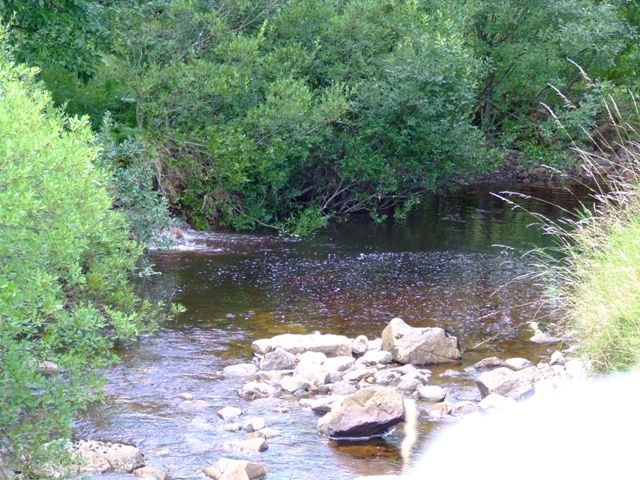 The start of the Eden, the confluence of Hell Gill Beck in the foreground and Ais Gill Beck from the left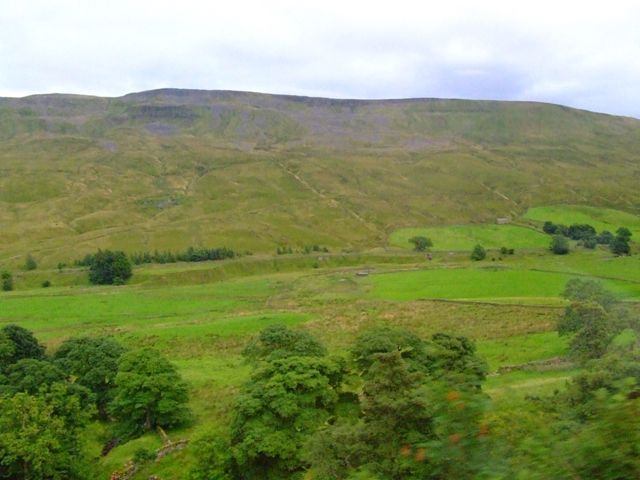 between Garsdale and Kirkby Stephen
between Garsdale and Kirkby Stephen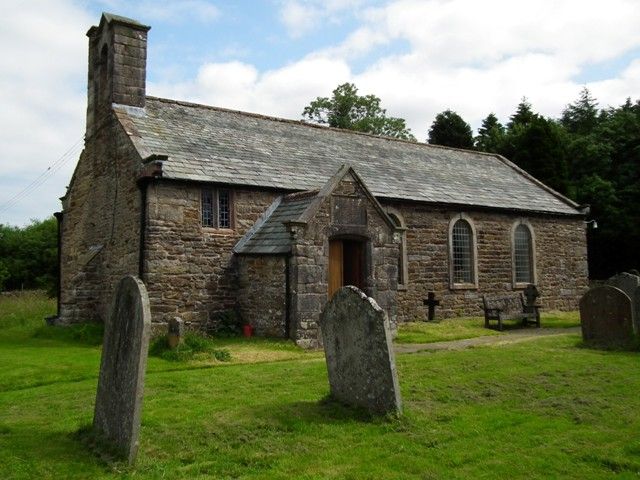 St. Mary's Church, Mallerstang....
....and another memorial to those killed building this section of the line
between Garsdale and Kirkby Stephen
Pendragon castle, which, according to legend....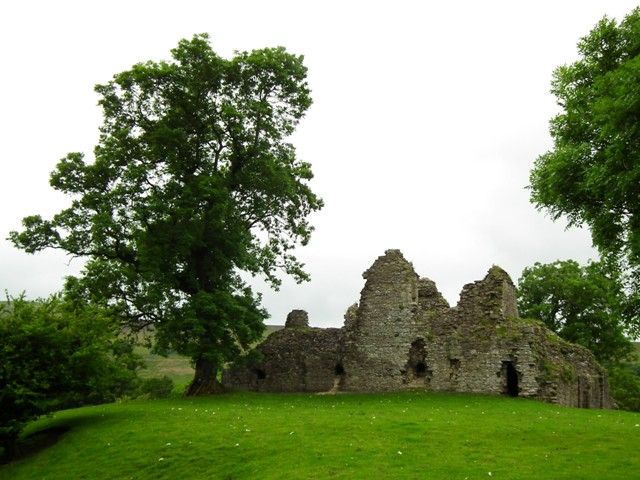 ....was built by Uther Pendragon, King Arthur's father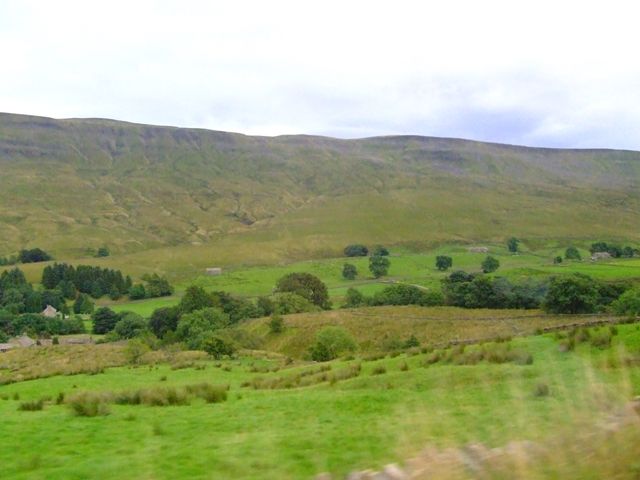 between Garsdale and Kirkby Stephen
Mallerstang Common, taken from directly above Birkett Common tunnel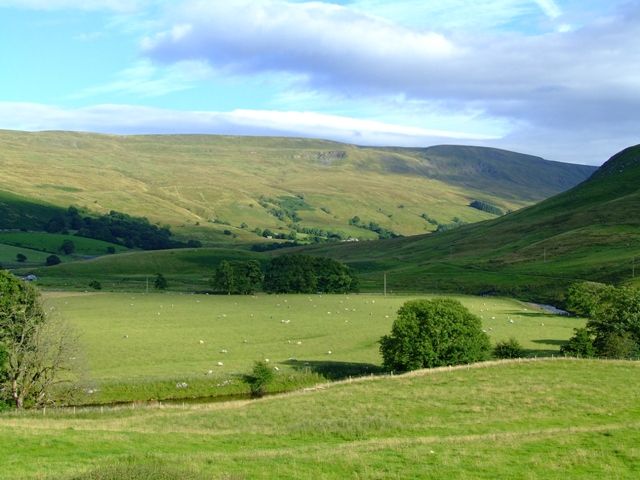 Birkdale Common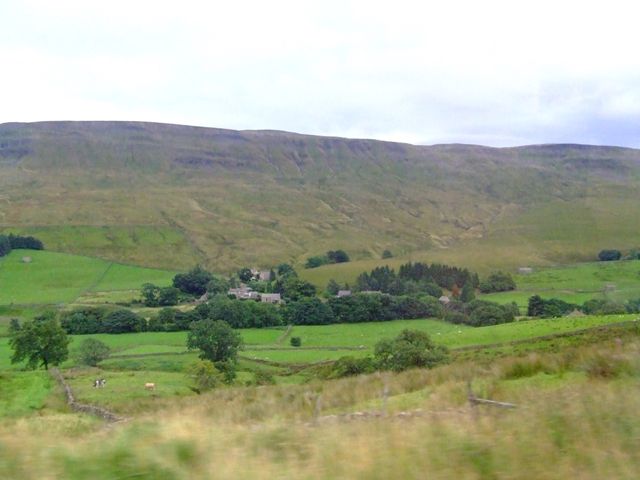 between Garsdale and Kirkby Stephen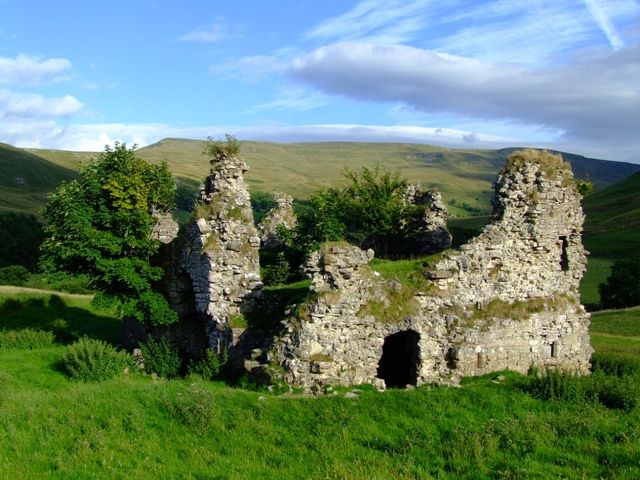 Lammerside castle from the 12th century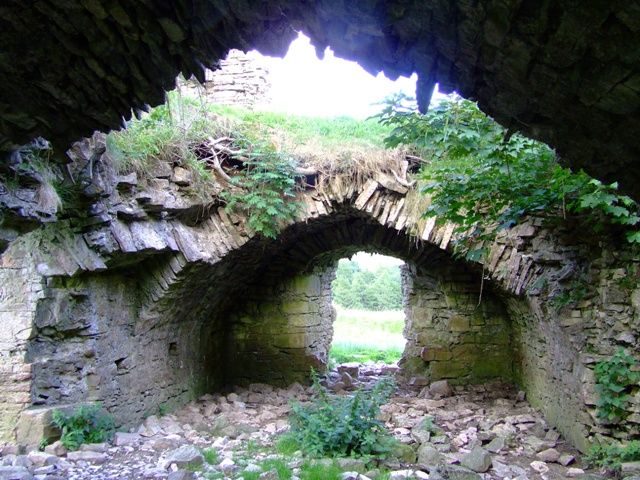 Lammerside castle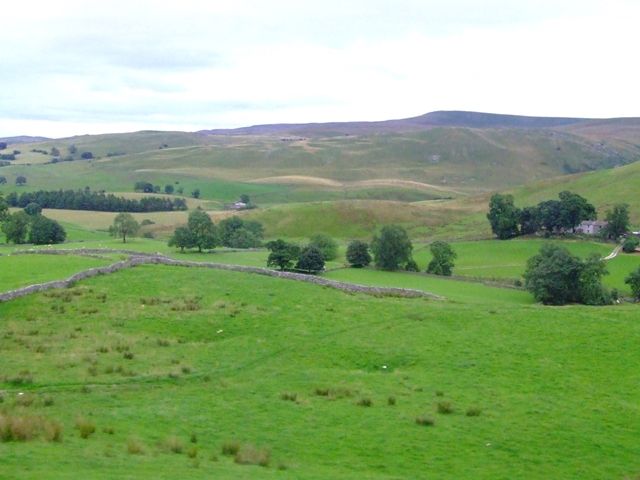 between Garsdale and Kirkby Stephen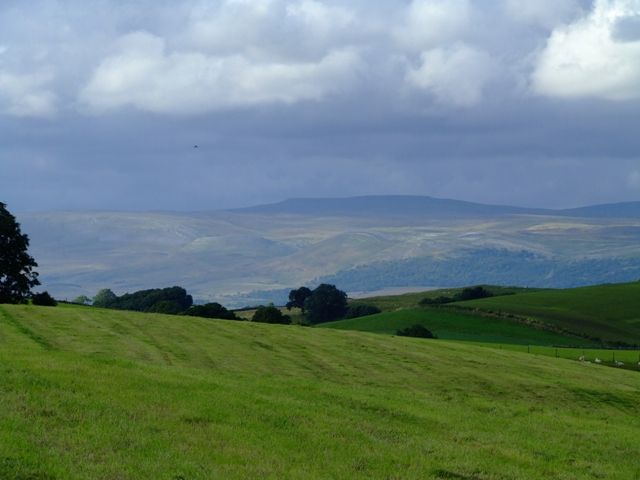 Upper Eden valley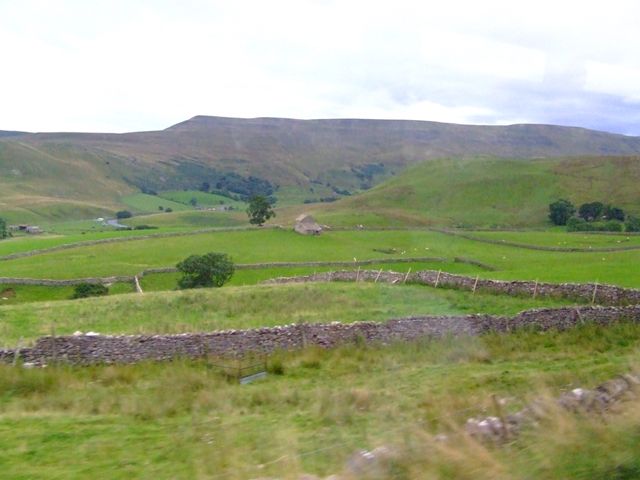 between Garsdale and Kirkby Stephen
Smardale viaduct....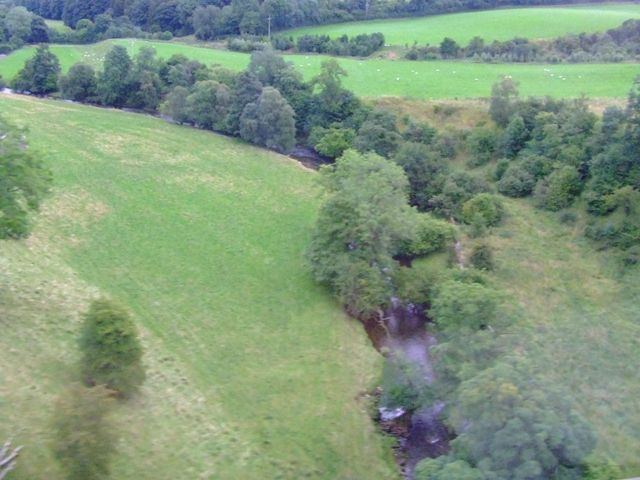 ....highest on the line at 131 feet above Scandal Beck
Crosby Garrett viaduct over Crosby Garrett Beck....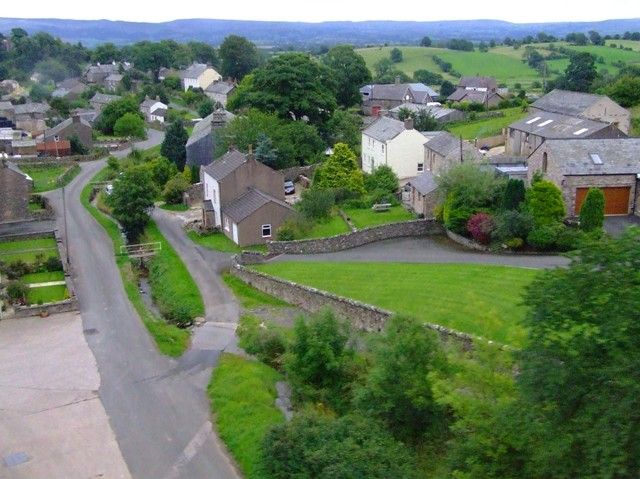 ....and Gallansay Lane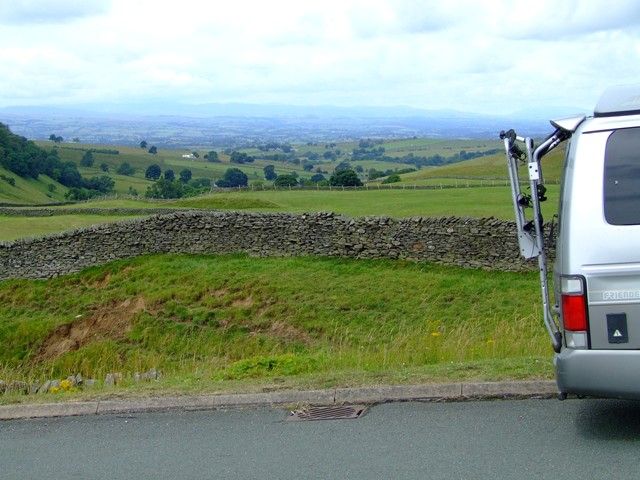 Upper Eden valley
Ormside viaduct....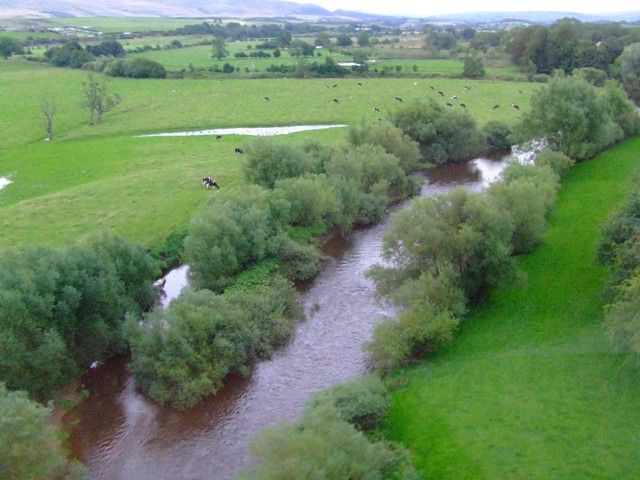 ....over the river Eden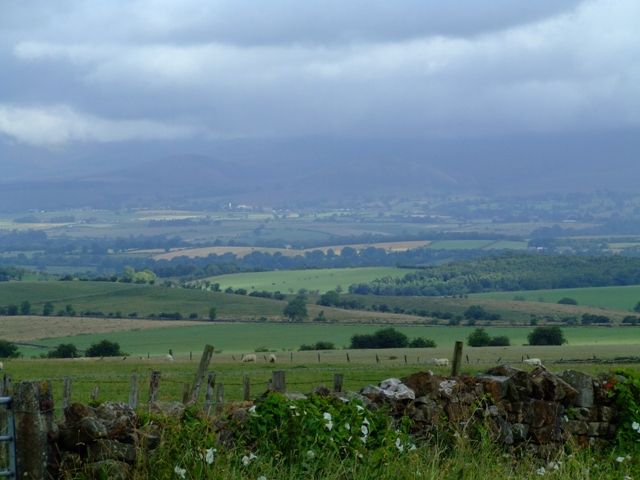 Eden valley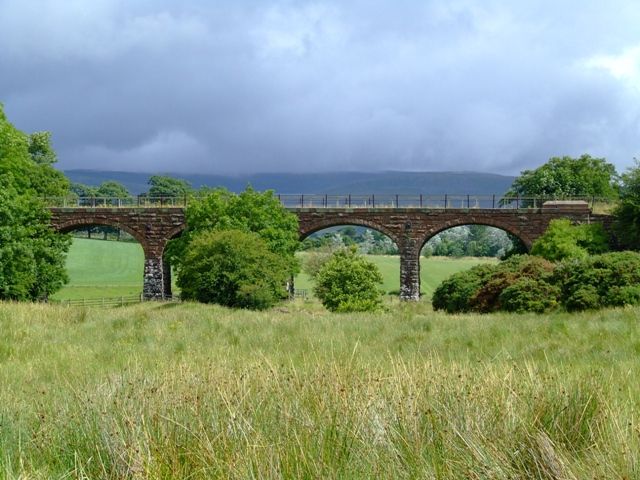 Coupland Beck viaduct on the adjacent (and earlier) Eden Valley Railway which once ran from Penrith to Kirkby Stephen via Appleby-in-Westmorland. Now only a couple of miles is operational from Appleby to the Ministry of Defence training camp at Warcop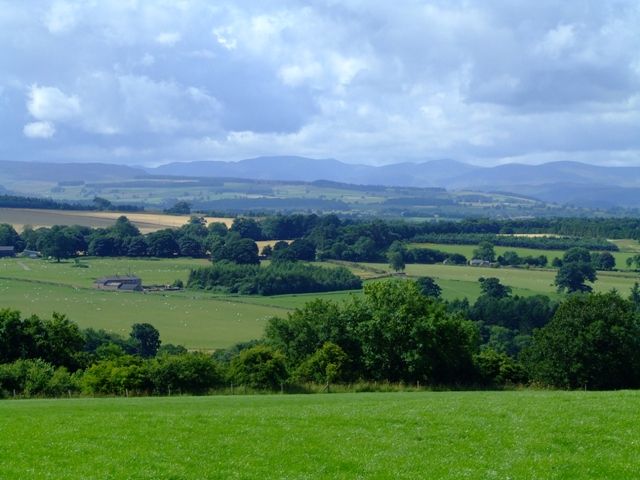 Eden valley
Weir in the Eden at Appleby-in-Westmorland, with the footbridge in the distance and the castle above

Appleby castle, Appleby-in-Westmorland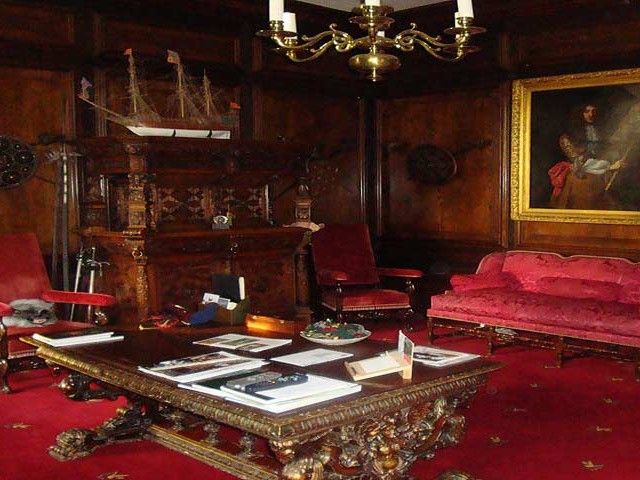 Not open to the public but they do occasional guided tours. No photography inside or outside though
Great Hall, Appleby castle
Clifford Bedroom, Appleby castle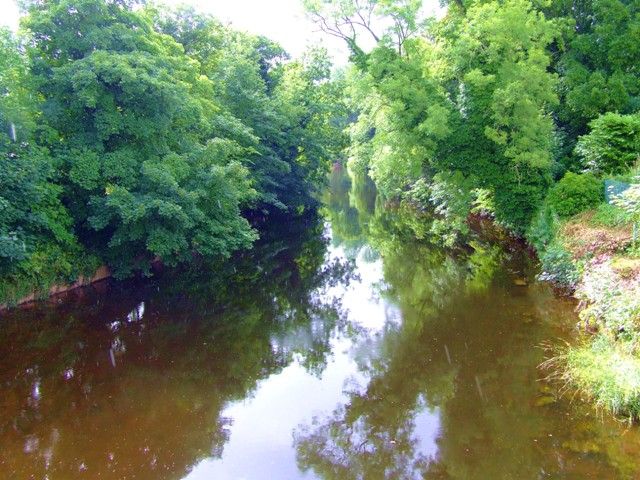 River Eden, Appleby-in-Westmorland
River Eden, Appleby-in-Westmorland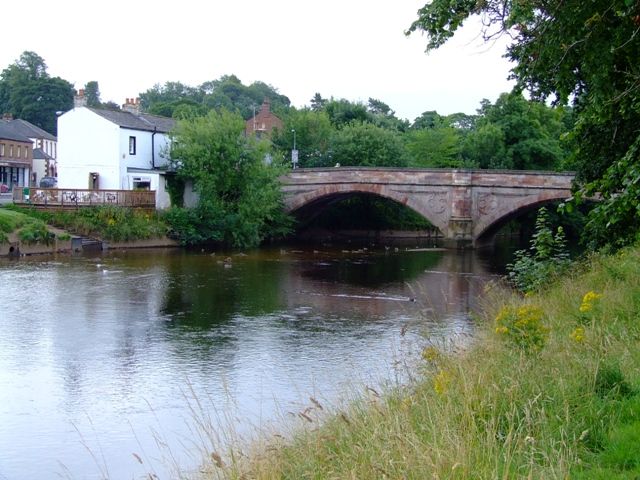 River Eden, Appleby-in-Westmorland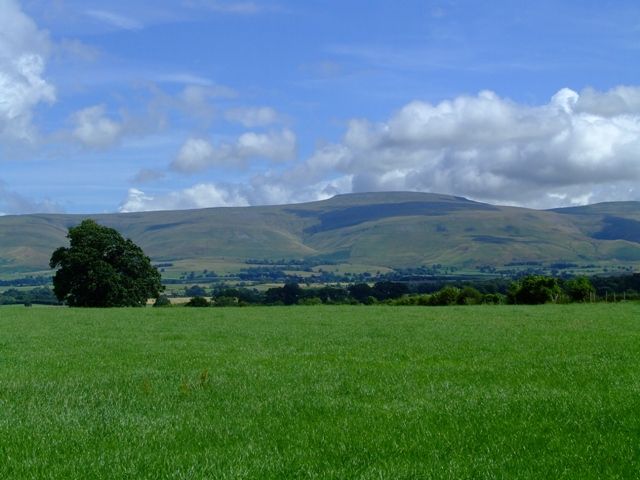 Eden valley
Culgaith tunnel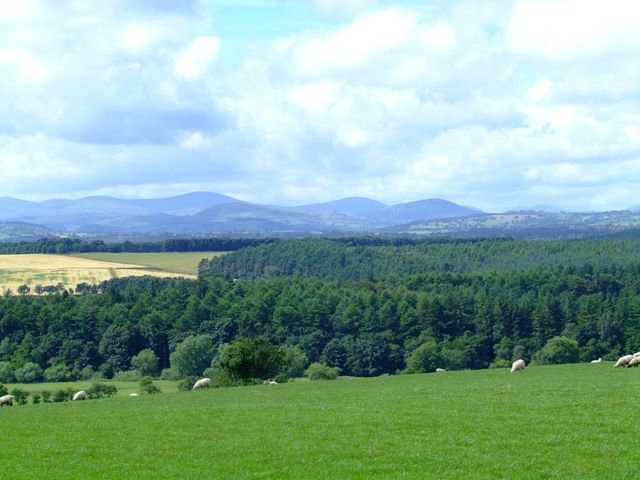 Eden valley
"Long Meg and Her Daughters", a bronze-age stone circle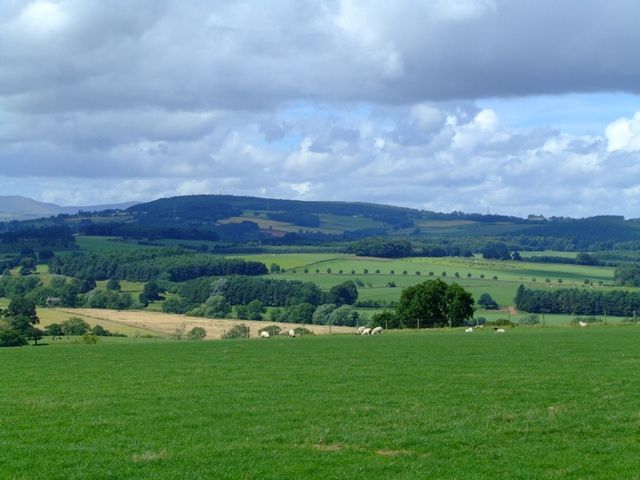 Eden valley
Eden Lacy viaduct....
....over the river Eden
Lacy's Caves, a series of five chambers cut into the red sandstone cliff above the Eden, named after Lieutenant-Colonel Samuel Lacy of who commissioned their carving in the 18th century
Eden valley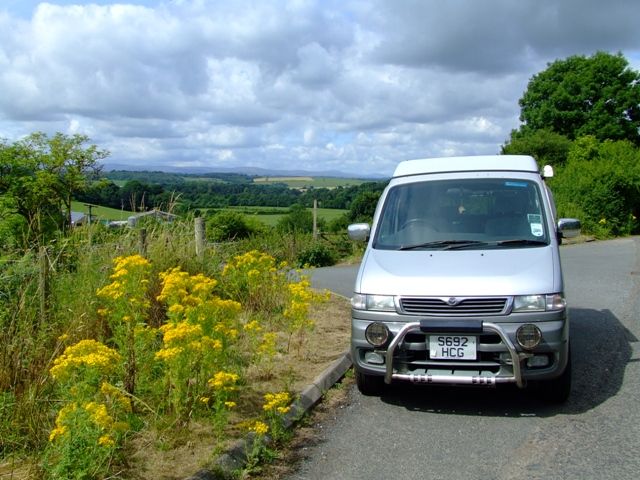 Eden valley
Eden valley
River Eden between Lazonby and Kirkoswald
Armathwaite castle overlooking the river Eden, built in the 15th century to defend against the Scots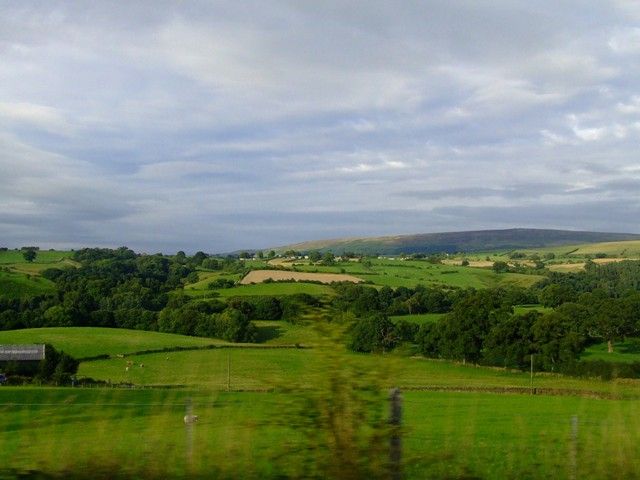 between Armathwaite and Carlisle
Eden valley
Carlisle station, also known as Carlisle Citadel station because....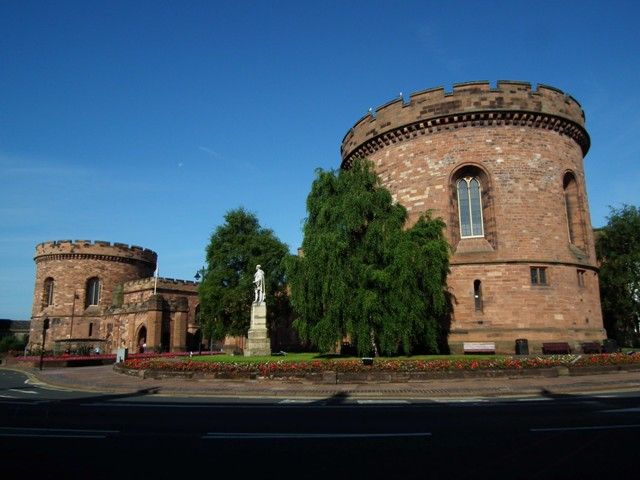 ....Carlisle citadel is right outside. This southern entrance to the city housed, until recently, the civil courts in the East Tower (R) and the criminal courts in the West Tower (L).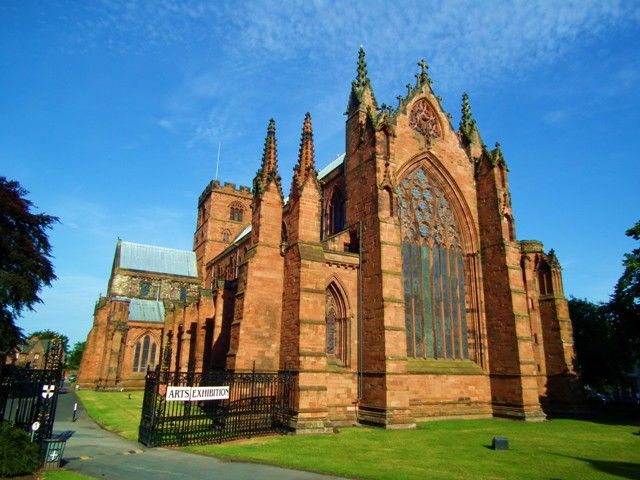 The Cathedral Church of the Holy and Undivided Trinity or Carlisle Cathedral....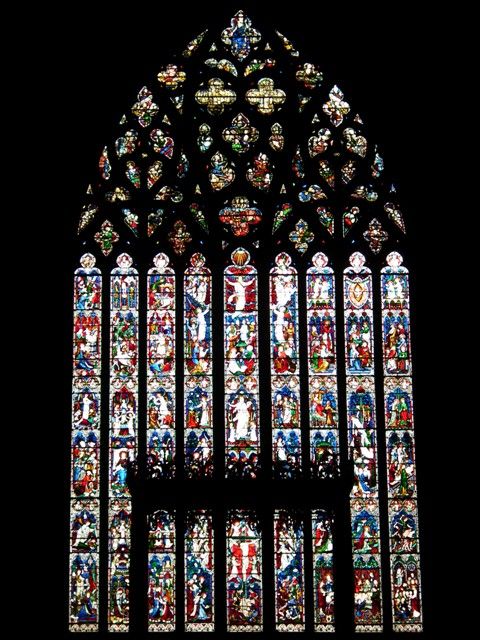 ....home of one of the finest examples of Flowing Decorated Gothic tracery in Britain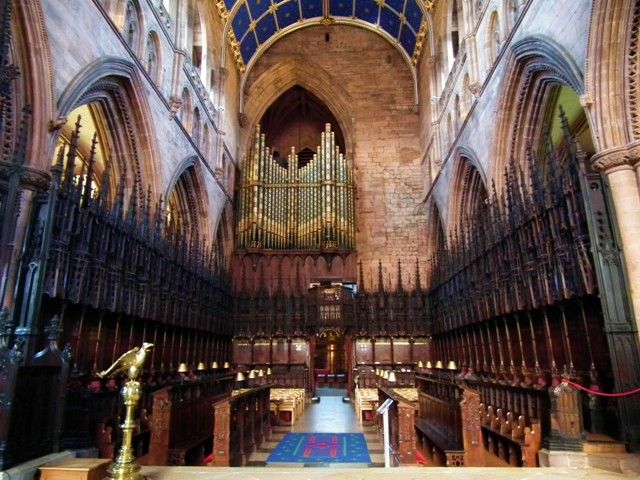 ....and the choir isn't too shabby neither

Carlisle castle, built over 900 years ago....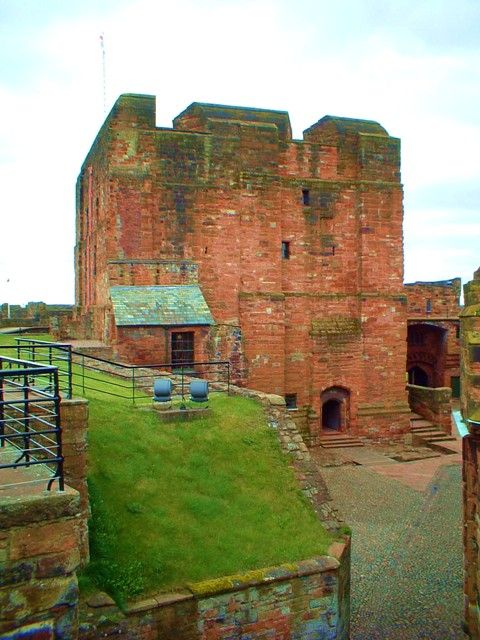 ....during the reign of William II, son of William the Conqueror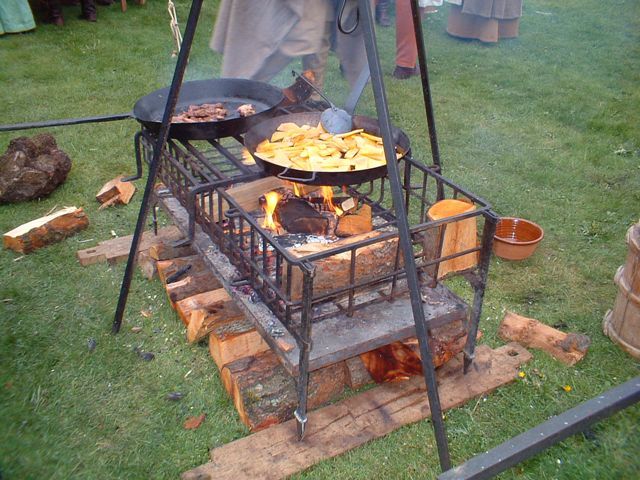 As it's a bank-holiday weekend, there's a medieval castle life demonstration with some period cooking going on as well

Onto our next train....
Over the river Eden....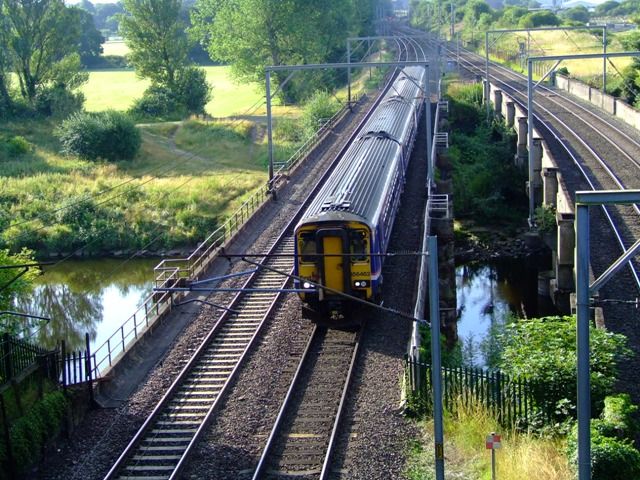 ....one last time....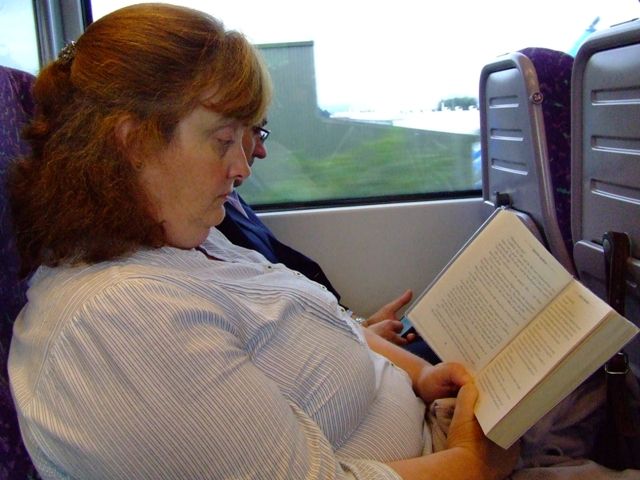 This part of the trip isn't as scenic....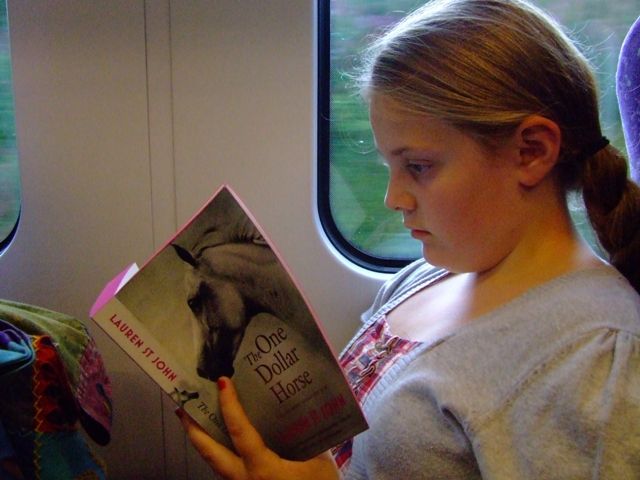 ....so settle down with a book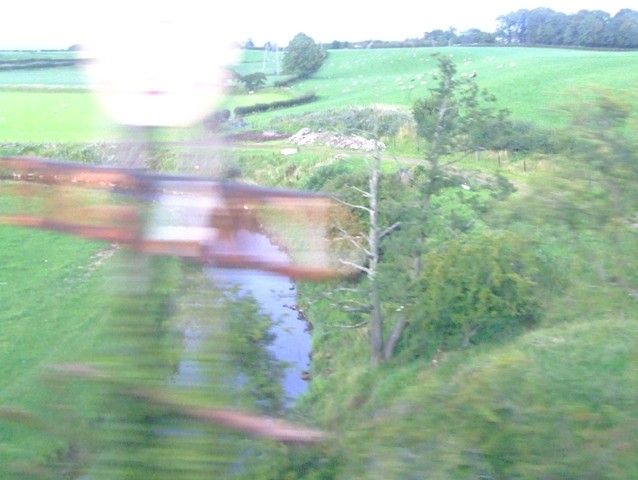 ….then over the river Sark at some speed....
....the western border between England & Scotland, made famous in Robert Burns' poem,
Such a Parcel of Rogues in a Nation:

Fareweel to a' our Scottish fame,
Fareweel our ancient glory;
Fareweel ev'n to the Scottish name,
Sae fam'd in martial story.
Now Sark rins over Solway sands,
An' Tweed rins to the ocean,
To mark where England's province stands-
Such a parcel of rogues in a nation!

What force or guile could not subdue,
Thro' many warlike ages,
Is wrought now by a coward few,
For hireling traitor's wages.
The English stell we could disdain,
Secure in valour's station;
But English gold has been our bane-
Such a parcel of rogues in a nation!

O would, ere I had seen the day
That Treason thus could sell us,
My auld grey head had lien in clay,
Wi' Bruce and loyal Wallace!
But pith and power, till my last hour,
I'll mak this declaration;
We're bought and sold for English gold-
Such a parcel of rogues in a nation!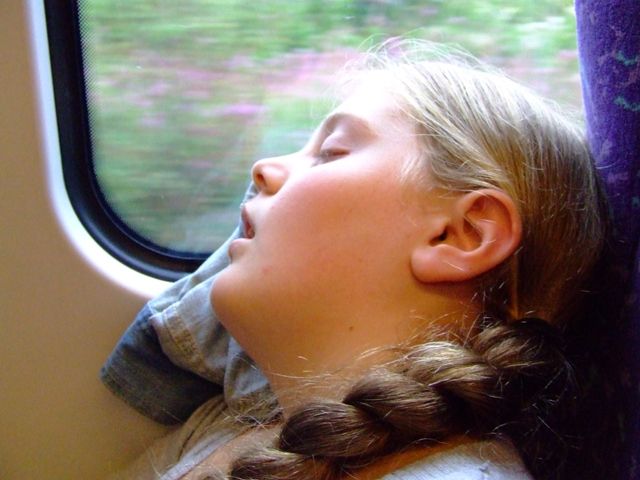 ....or fill the carriage with ZZZZZZZZZZZZZzzzzzzzzzzzzzzzzz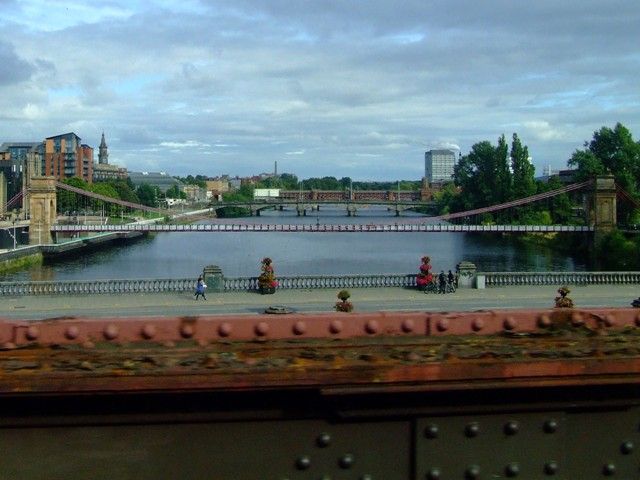 River Clyde, Glasgow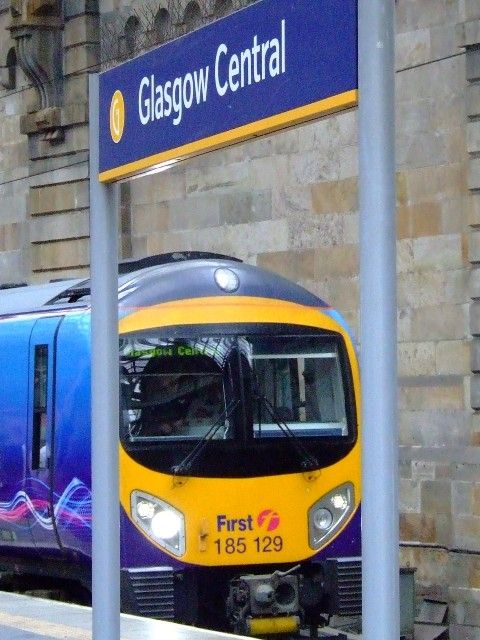 Glasgow Central. We've 2½ hours to get to Glasgow Queen Street station which is a whopping 0.3 miles away. There's a complimentary bus for all you couch potatoes but I reckon we've got time to walk it and have a look at Glasgow

I'm sure when I watched
Star Wars
, the stormtroopers weren't wearing kilts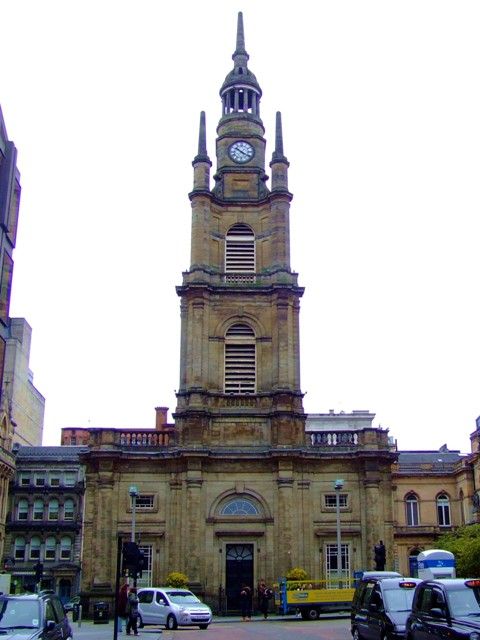 The St. George's Tron Church in Nelson Mandela Place. Bizarrely, Mrs Muz was here last year with our local Baptist minister (no, not Barry the Baptist
)....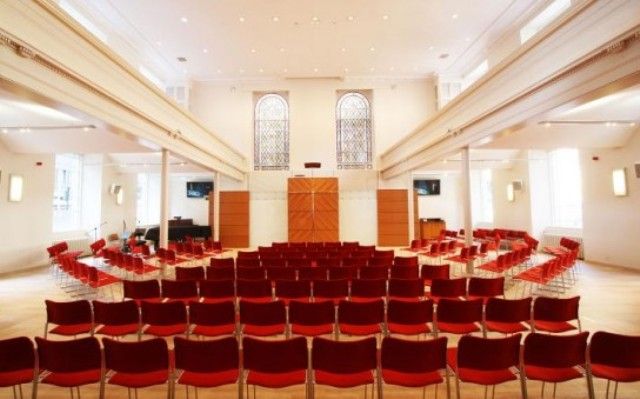 ....to see the surprisingly modern interior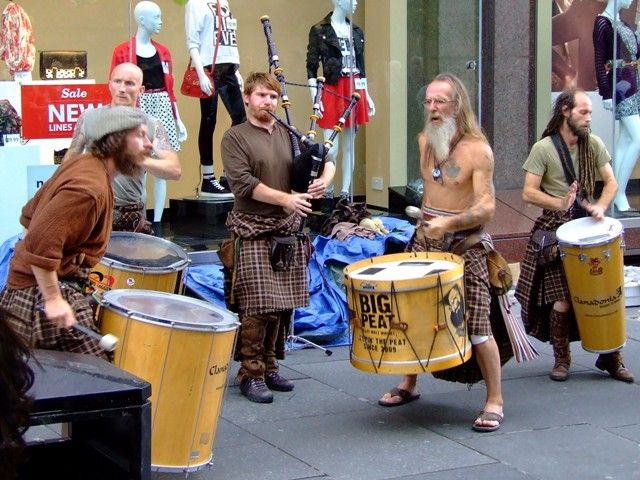 Glaswegian buskers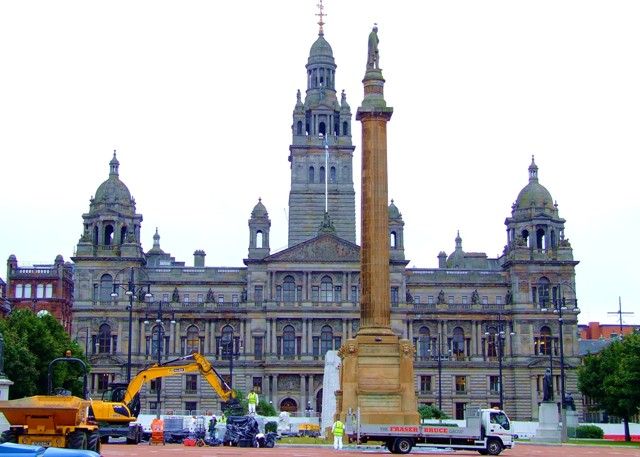 Glasgow City Chambers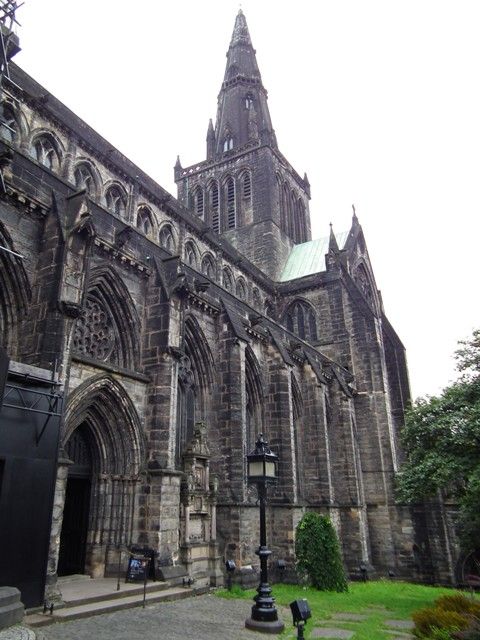 St Mungo's, St Kentigern's, the High Kirk of Glasgow or just plain Glasgow Cathedral....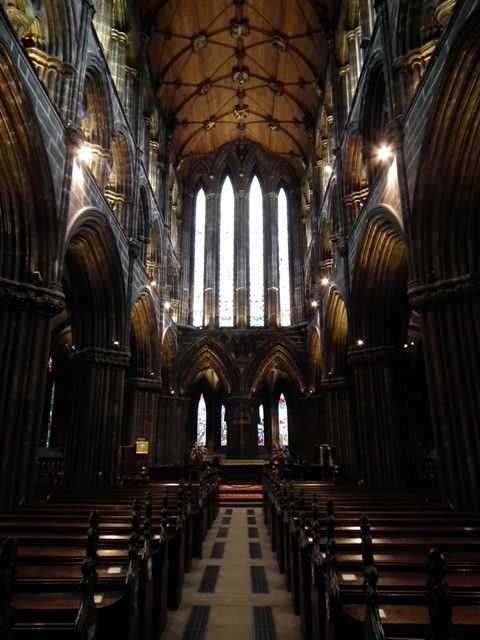 ....the only medieval cathedral on the Scottish mainland to have survived the Reformation virtually complete
Glasgow Cathedral
Choir ceiling and organ, Glasgow Cathedral
Glasgow Cathedral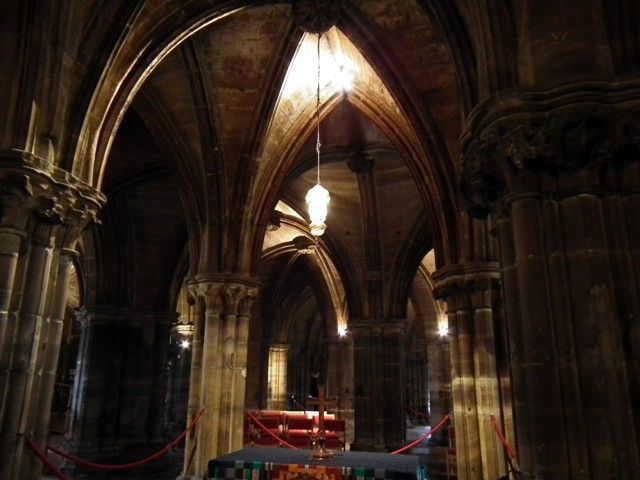 The lower church over the tomb of St Kentigern or St Mungo
Glasgow Queen Street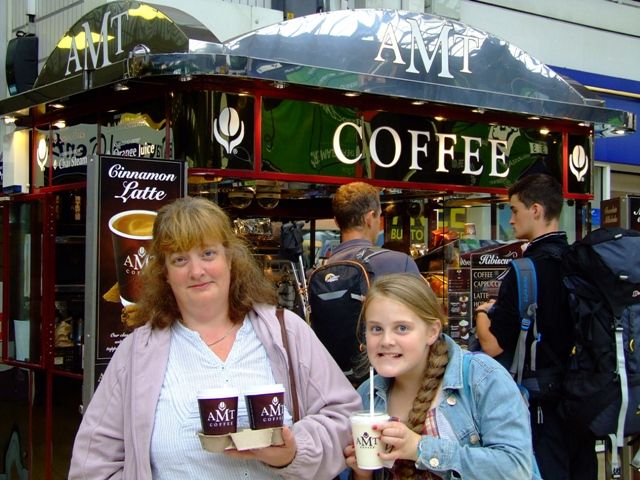 Mrs Muz own-brand coffee at Queen St station

Train 3 – Heading north out of Glasgow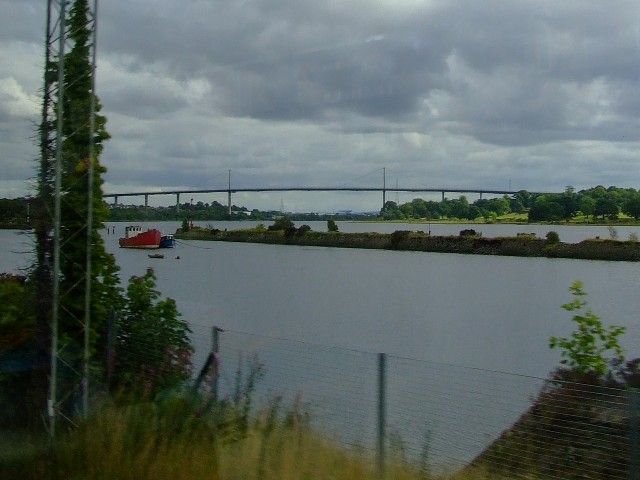 Erskine bridge over the Clyde
Team Muz on tour – with a bewildered onlooker in the background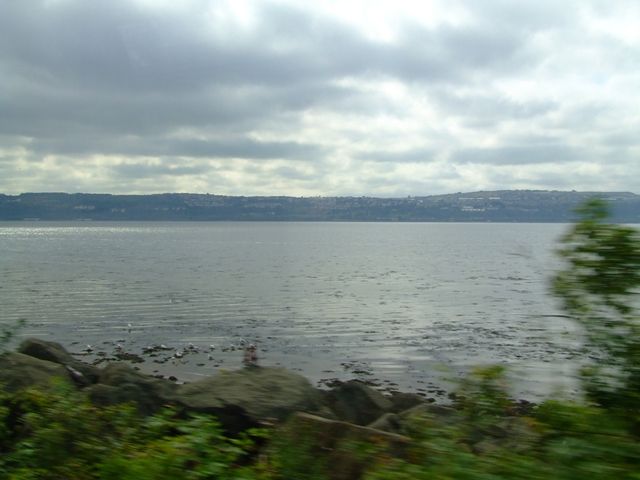 River Clyde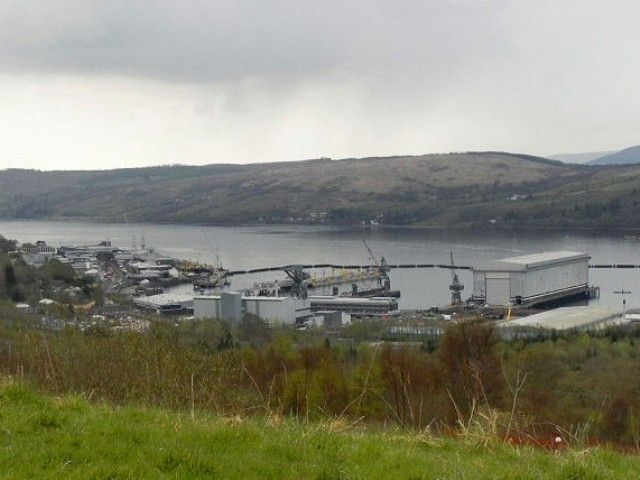 Her Majesty's Naval Base at Faslane, home of Britain's Trident nuclear submarine fleet....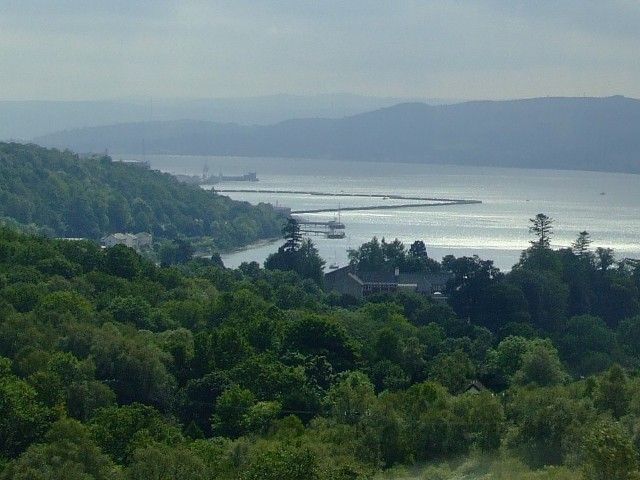 ....also home of worldwide tree-huggers
The mouth of Loch Goil from Loch Long. Loch Goil is where the subs go to play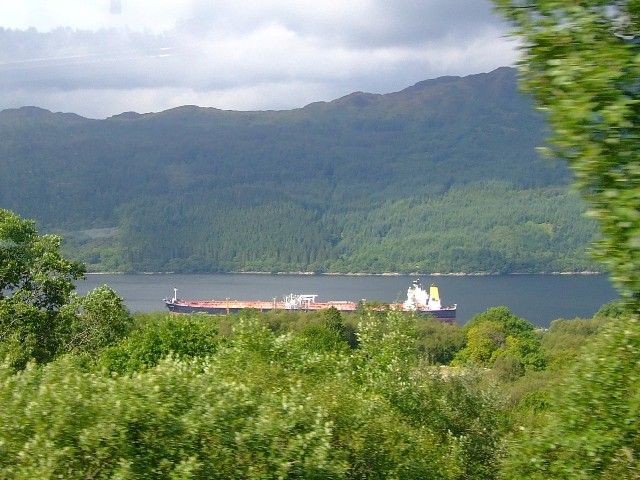 Finnart oil terminal, Loch Long
The new Ardgartan Hotel at the top of Loch Long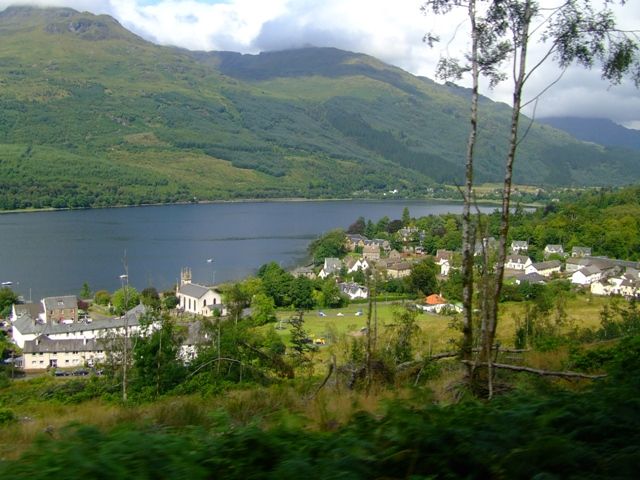 Arrochar at the top of Loch Long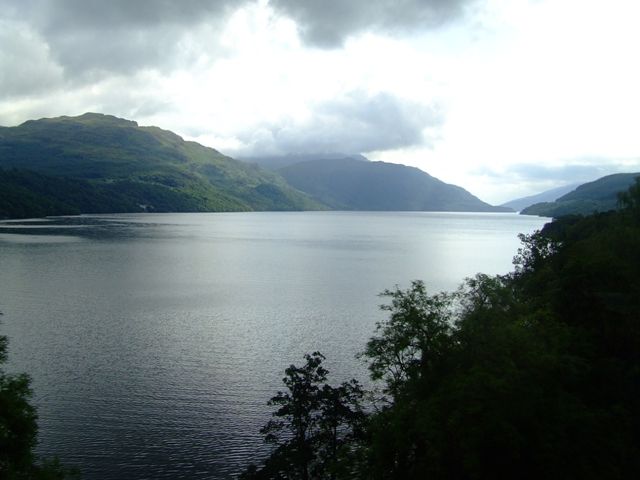 Loch Lomond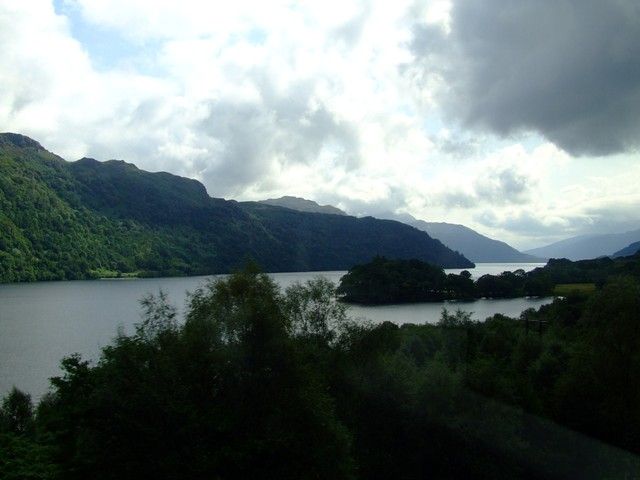 Loch Lomond

Stunning scenery near Crianlarich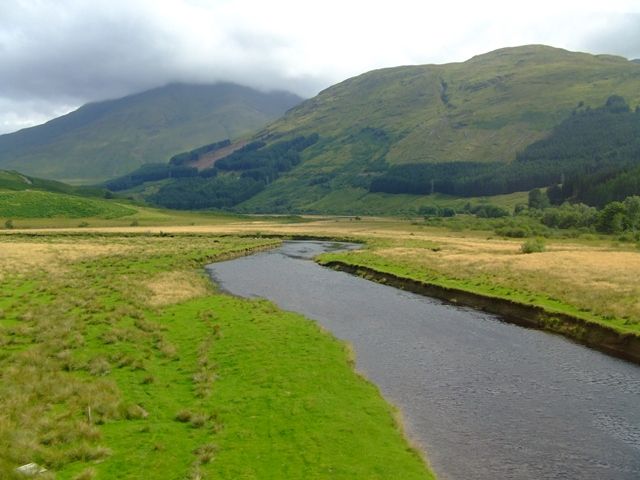 River Fillan, Crianlarich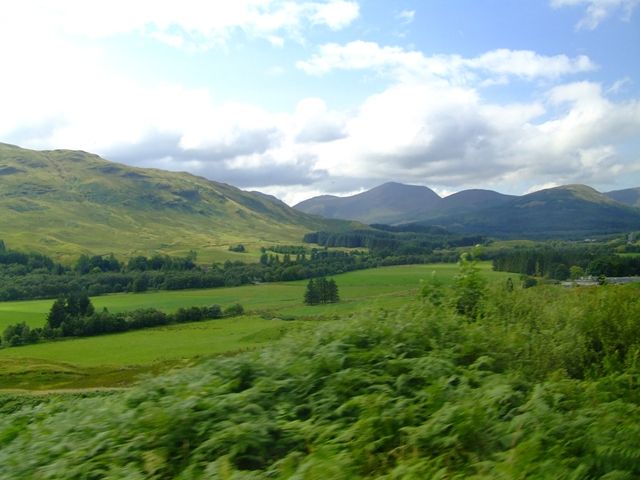 between Crianlarich and Tyndrum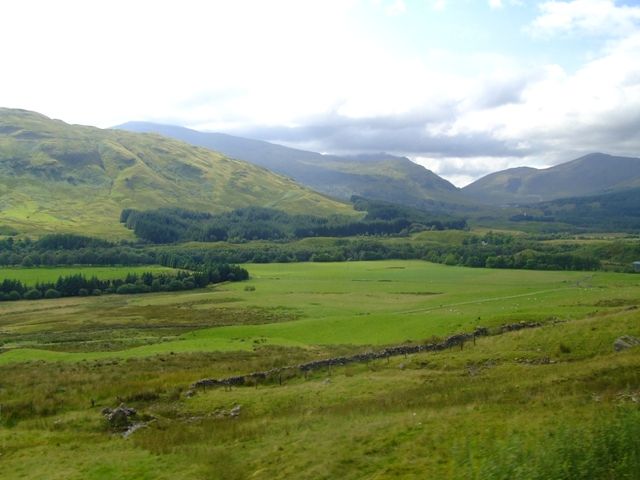 between Crianlarich and Tyndrum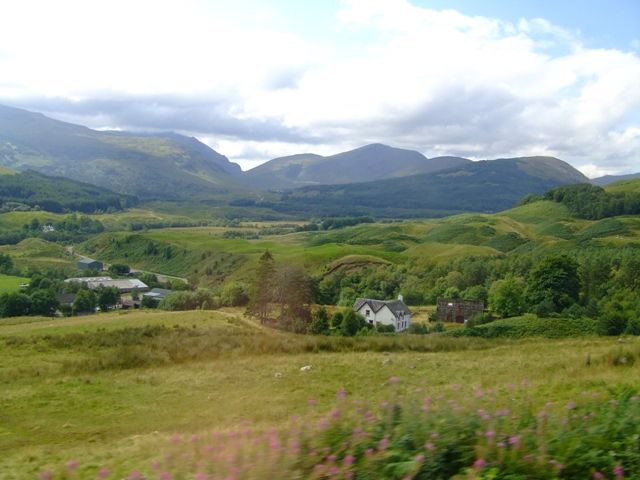 between Crianlarich and Tyndrum
between Crianlarich and Tyndrum
between Crianlarich and Tyndrum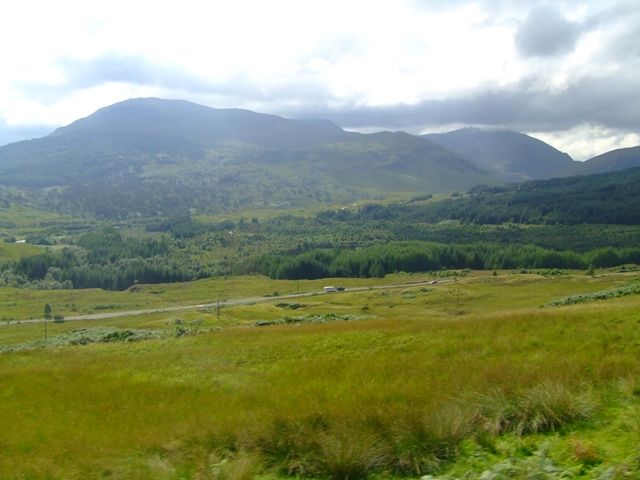 between Crianlarich and Tyndrum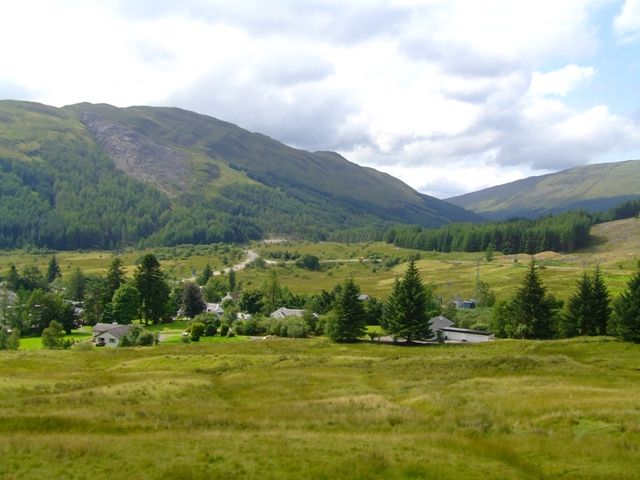 Tyndrum
between Tyndrum and Bridge of Orchy
between Tyndrum and Bridge of Orchy
between Tyndrum and Bridge of Orchy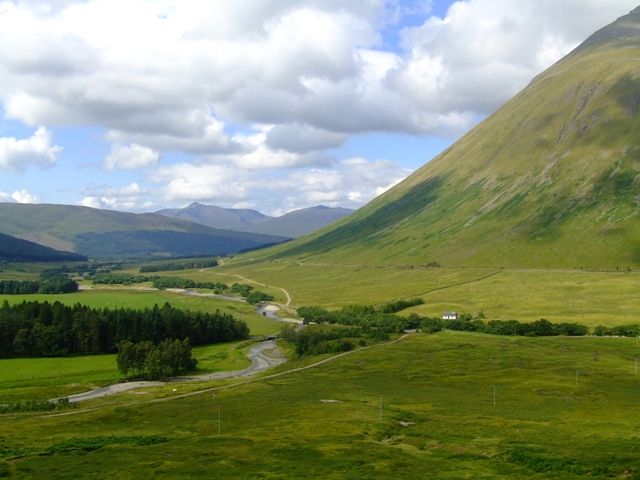 Allt Coire Chailein
between Tyndrum and Bridge of Orchy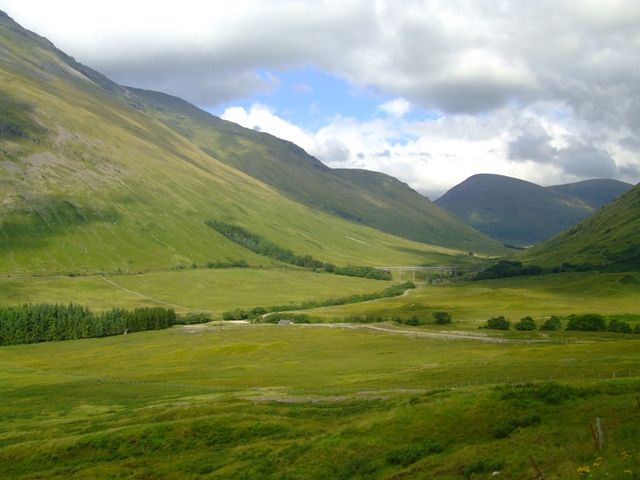 The horseshoe curve....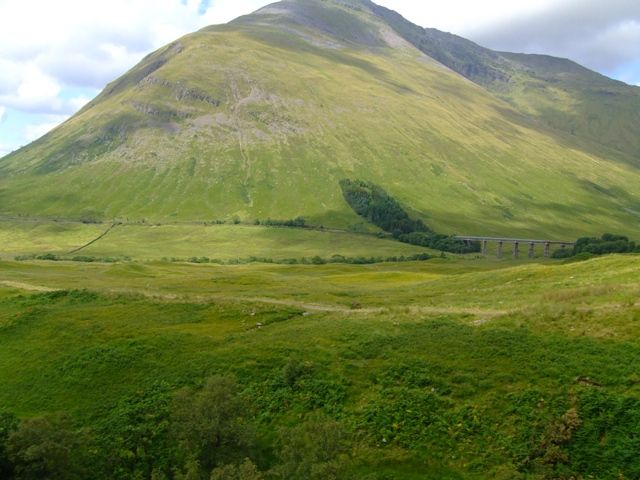 ....between Upper Tyndrum....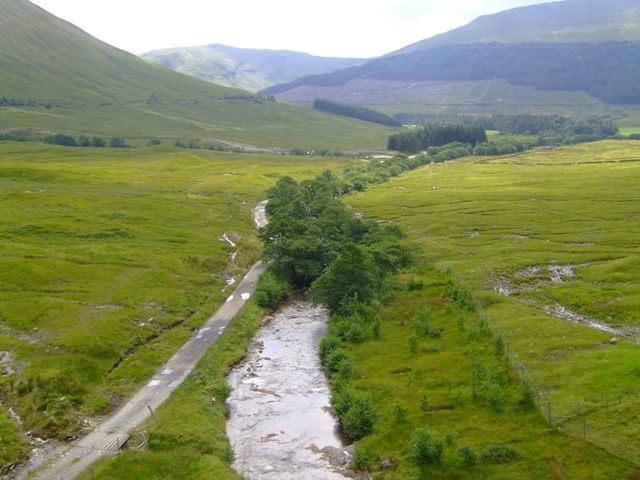 (
Allt Kinglass
, horseshoe curve)
....and Bridge of Orchy….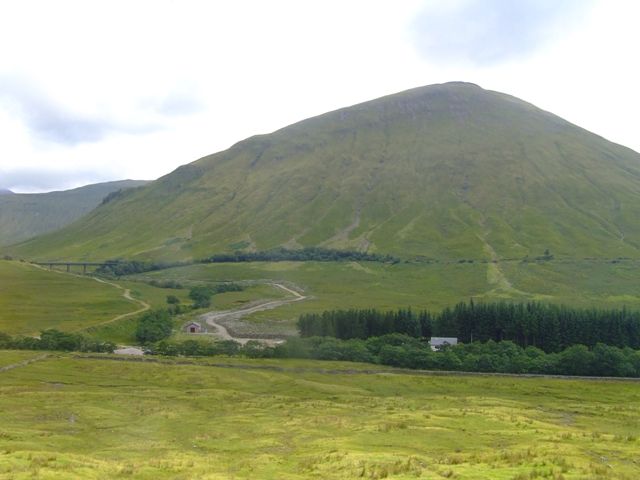 ….built because the engineers of the railway....
....couldn't afford to build a viaduct across the remote valley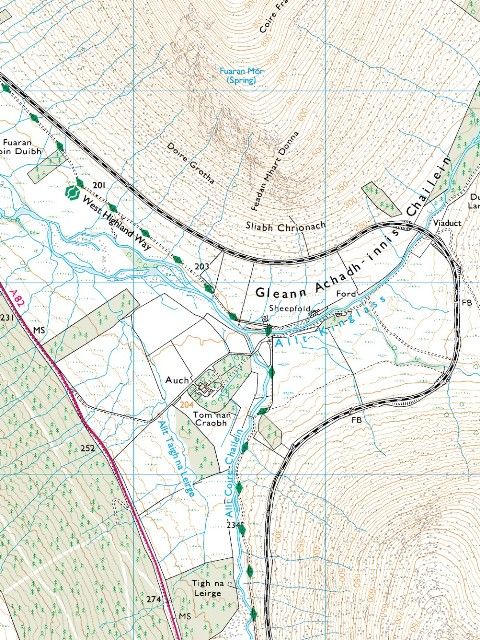 Horseshoe curve, Upper Tyndrum to Bridge of Orchy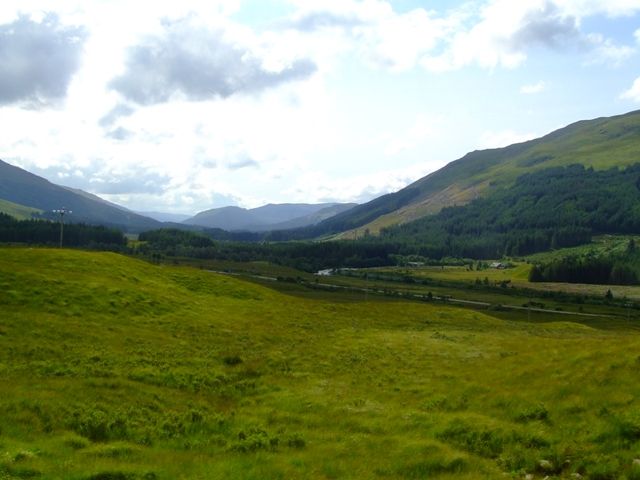 between Tyndrum and Bridge of Orchy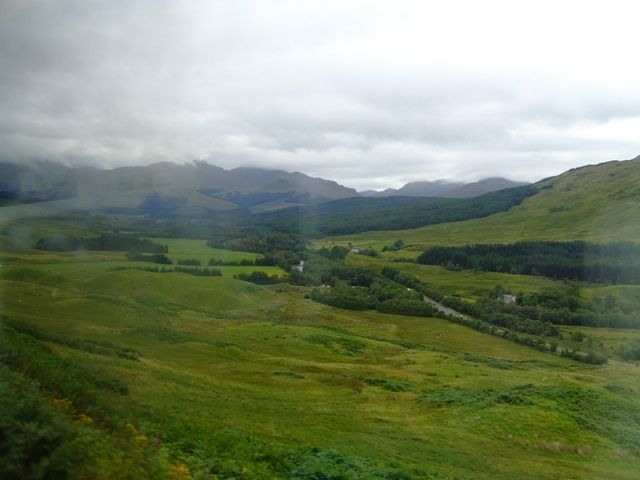 Near Bridge of Orchy
between Bridge of Orchy and Rannoch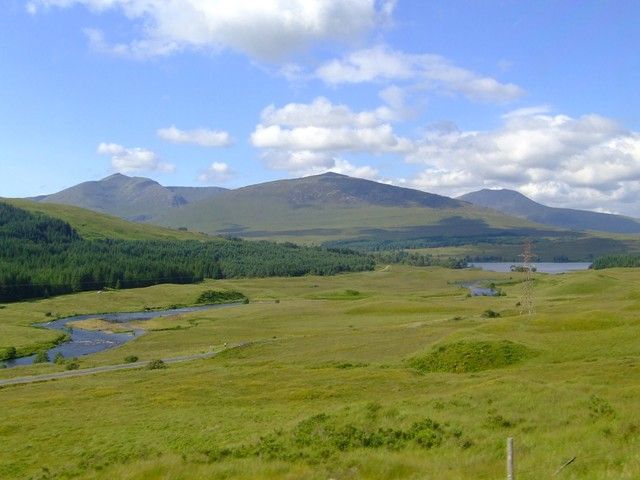 between Bridge of Orchy and Rannoch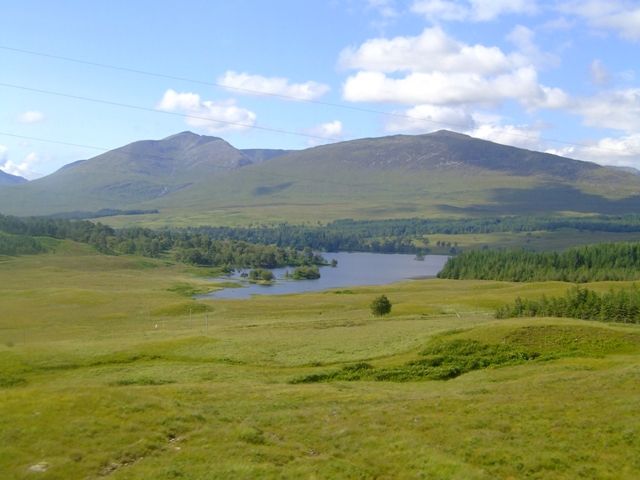 between Bridge of Orchy and Rannoch
between Bridge of Orchy and Rannoch
between Bridge of Orchy and Rannoch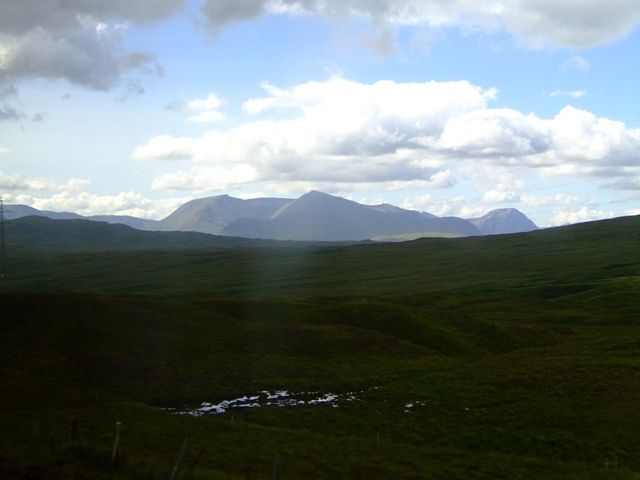 between Bridge of Orchy and Rannoch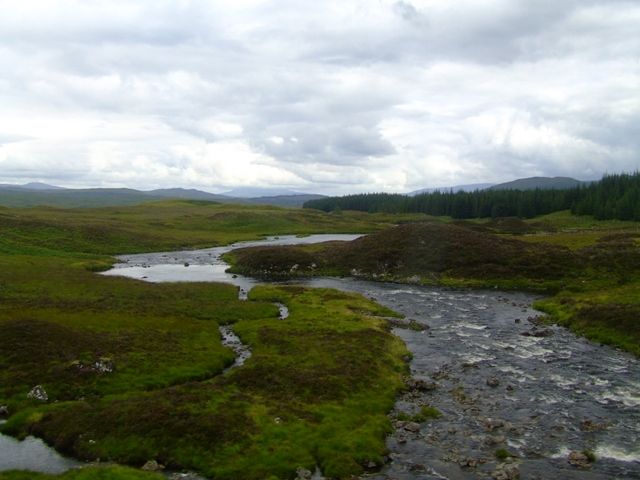 between Bridge of Orchy and Rannoch
between Rannoch and Corrour
between Rannoch and Corrour, snowdrift fences leading up to....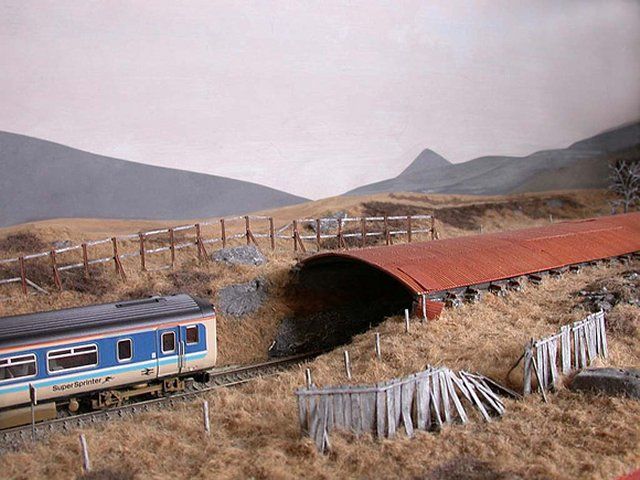 ....Cruach Rock snowshed, the only snowshed in Britain – a corrugated iron roof laid over a 200 yard cutting to keep the snow out
Overnight stop in Nowheresville, officially the most remote mainline station in Britain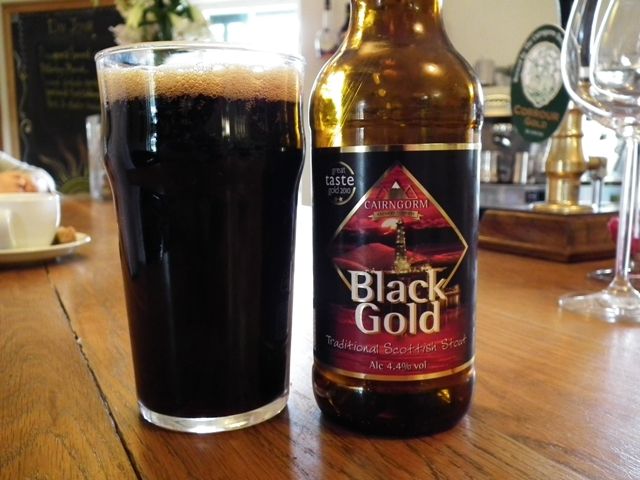 First things first – a pint of Cairngorm
Black Gold
for the weary traveller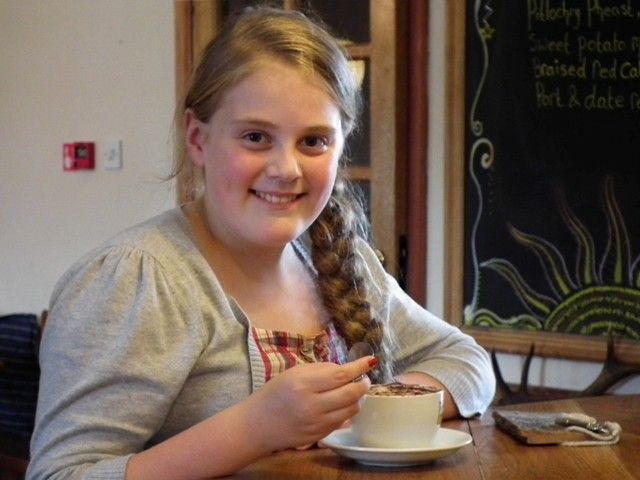 ....while Muzette has something more sensible....
....and gives resident German wirehaired pointer Archie....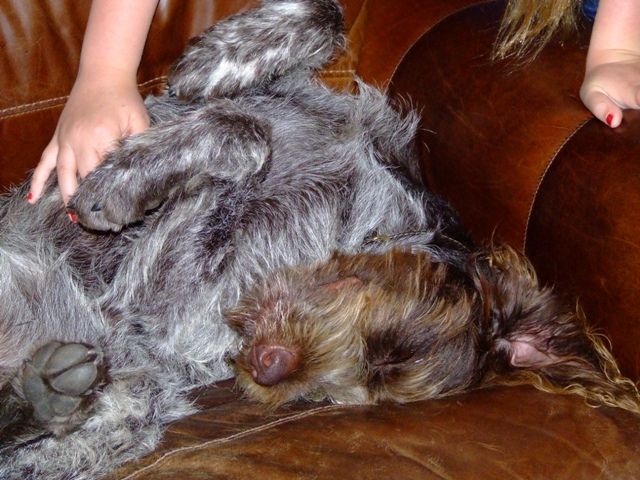 ....some long overdue tummy-tickles
Ballotine of chicken breast, MacSween haggis & Argyllshire bacon, absolutely stunning

Risotto of pearl barley, Highland goats cheese, red pepper & pine kernel coulis and greens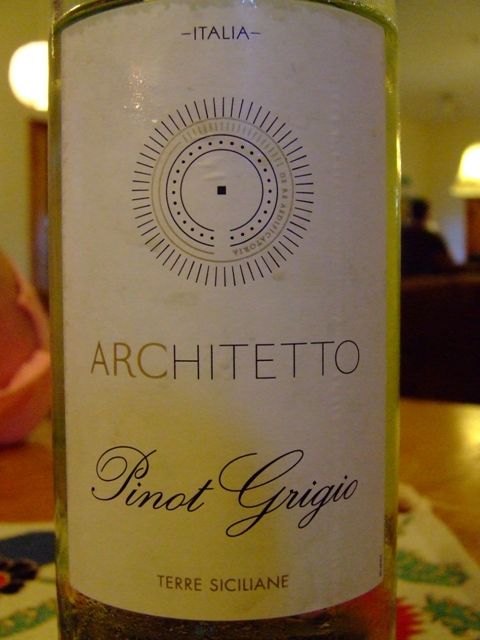 A chilled Architetto. I think the dog chose this one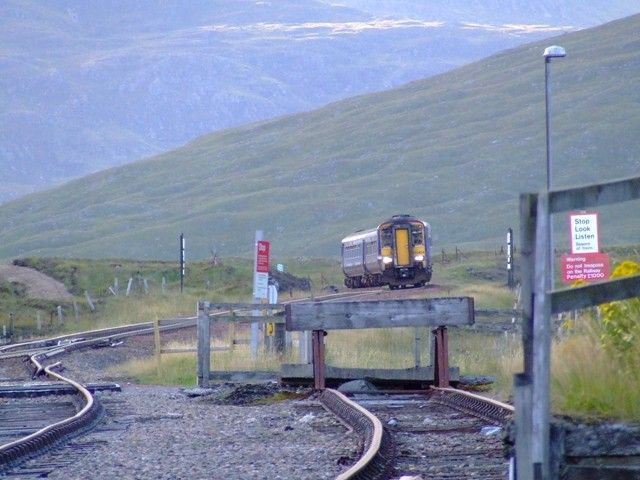 Time to watch the few scheduled trains....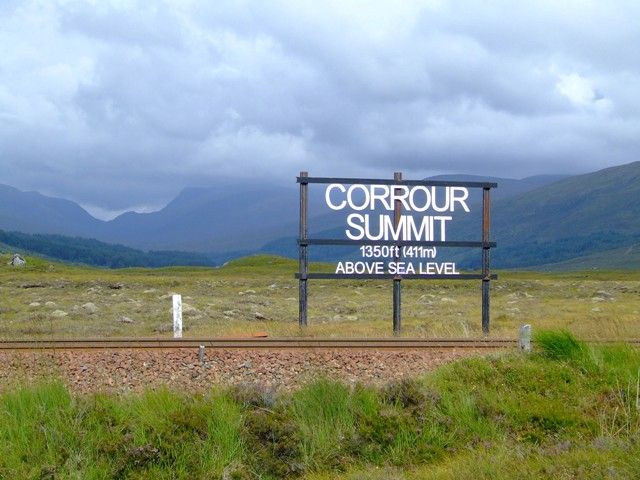 struggle up to Corrour summit, the highest point on mainline rail in Britain....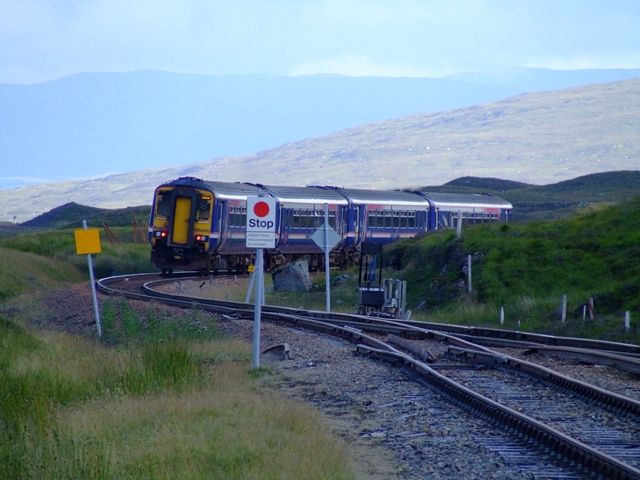 ....before disappearing over the edge into Rannoch Moor

Corrour Station House Restaurant....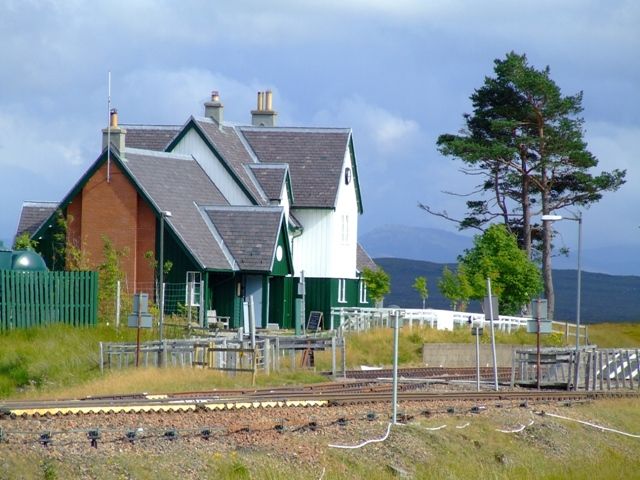 ....with rooms. You really should try this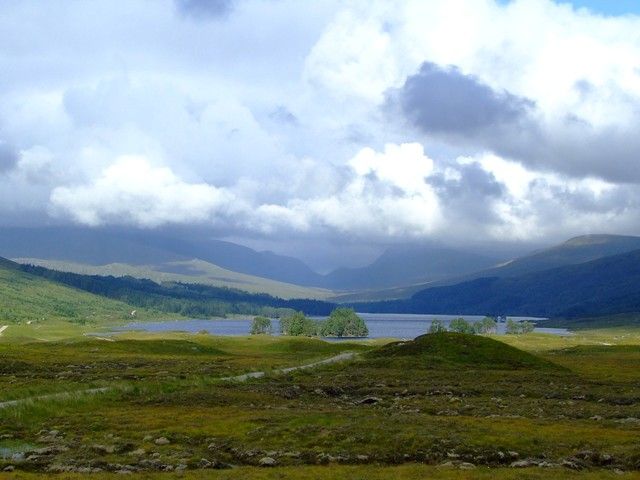 Loch Ossian
Corrour Station House
Loch Coir' a' Bhric Beag
, Corrour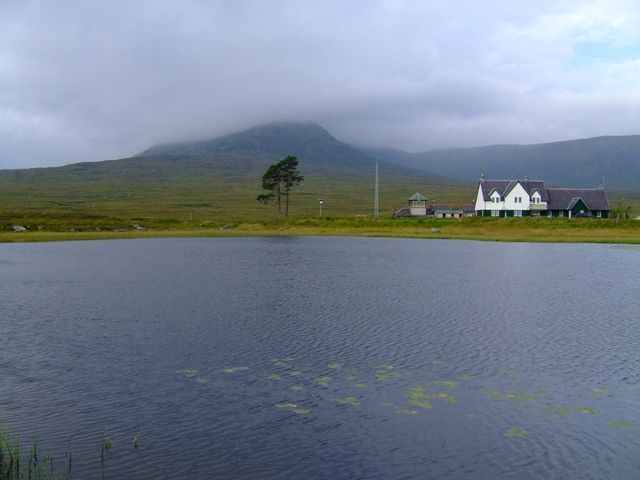 Loch Coir' a' Bhric Beag
, Corrour
Hmmm, big juicy caterpillar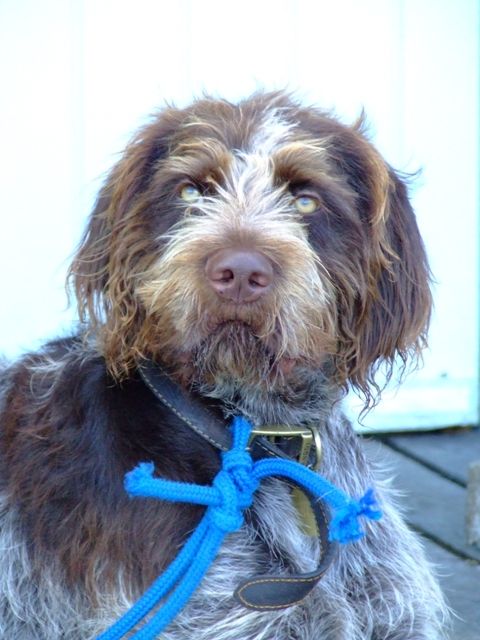 Archie!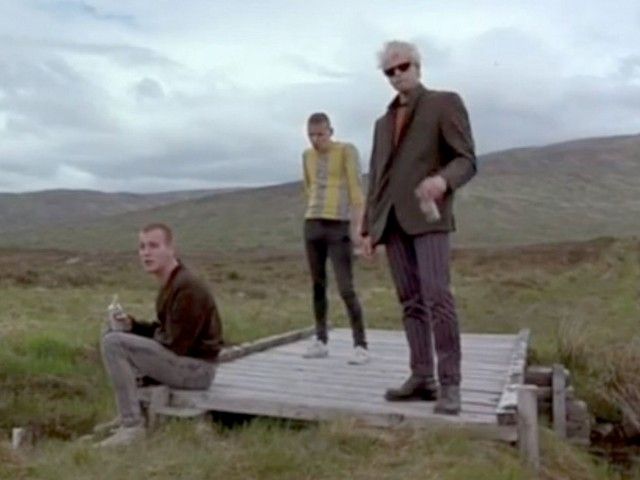 Next, the bridge in the film Trainspotting, to movie fans, it's most commonly known as the "it's shite being Scottish" scene, filmed on location at Corrour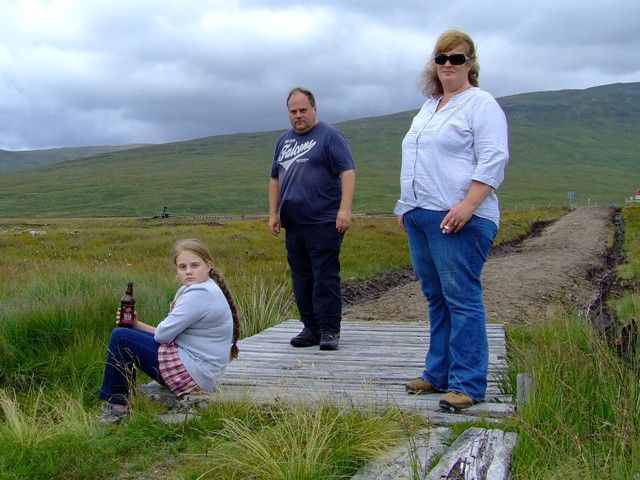 Starter - Saddle of Sutherland hare, MacSween haggis, sautéed potatoes and a red wine jus for sir

....and a pan-seared scallop, Stornoway black-pudding, Corrour single malt whisky sauce & clapshot for madam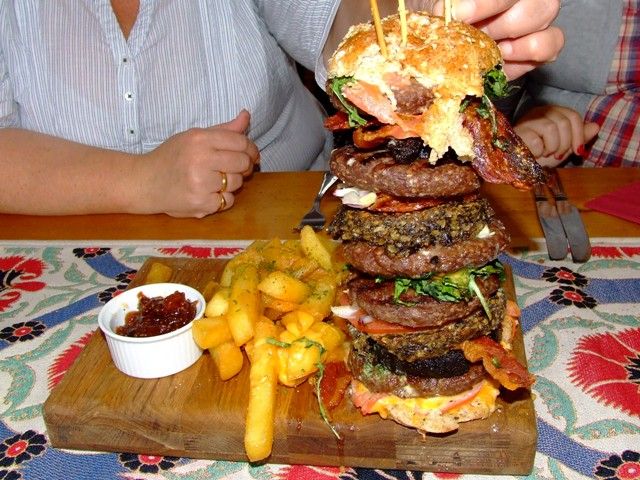 ...and then the
Man vs Stag
Challenge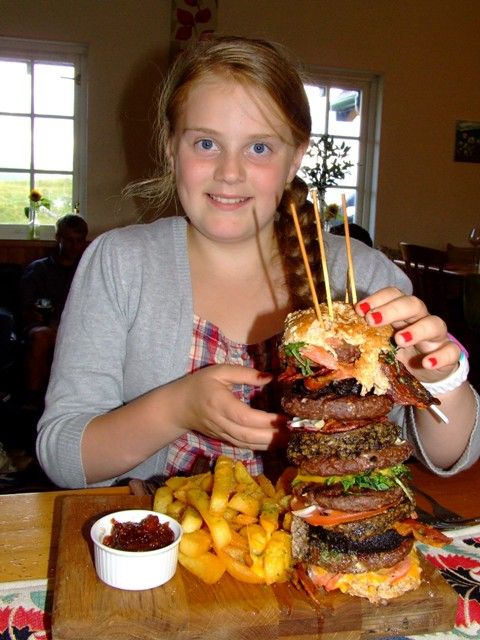 This was originally put to me as a 16oz venison burger against the clock and we thought "Pah, four quarter-pounders and a sesame-seed bun, easy-peasy lemon-squeezy!"
Then it was wheeled in - 2 black pudding, 2 haggis, 5 venison ¼lb burgers, 5 bacon, 2 tomato, 2 onion, Cheddar between each slice, large fries, a pint of lager and a packet of crisps. Not a good idea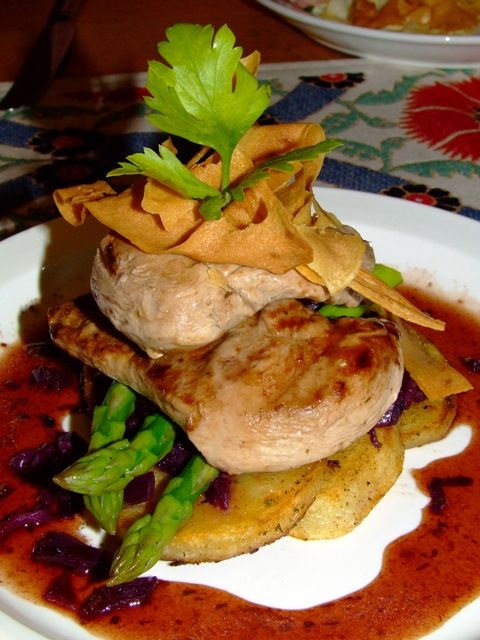 I had the eminently sensible Pitlochry pheasant, Blairgowrie asparagus and a few other things
Fail

Pudding anyone?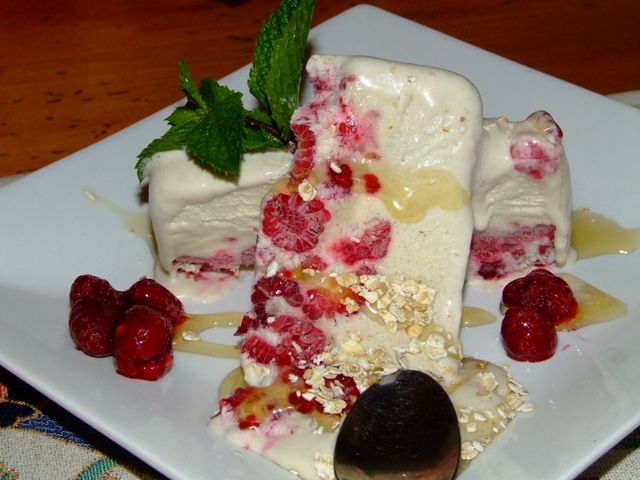 Go on then, I'll have the semi-freddo of whisky cream, raspberries, heather honey & Highland oatmeal

A wee dram of single malt to finish. "Two double singles please"
Time to retire for a sleep, and connect to the house WiFi – we are in the middle of nowhere after all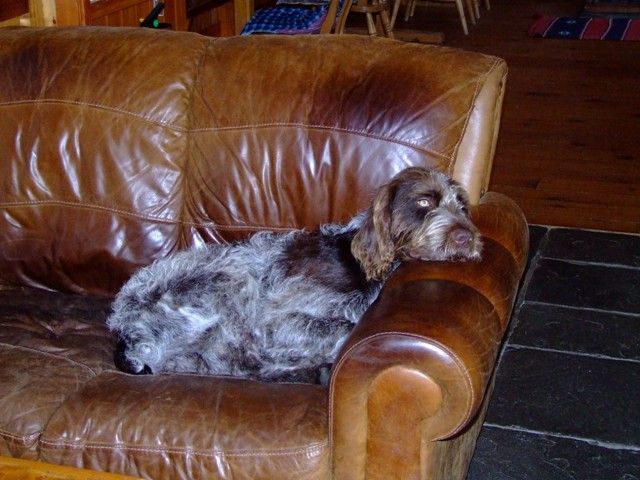 Morning – and Archie is raring to go again
Breakfast? I'll have the Argyll bacon, Stornoway black pudding, MacSween haggis, venison sausage, scrambled eggs, tomato, mushrooms & toast please

It's early morning, might as well jump on the Caledonian Sleeper (
The DeerStalker
)....
....which left London Euston yesterday evening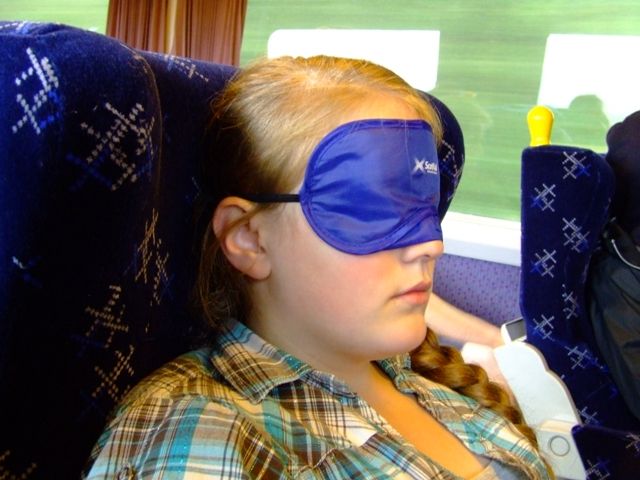 This may take some time. Although the train can do 100mph, it's restricted to 40mph over Rannoch Moor due to the weight of the loco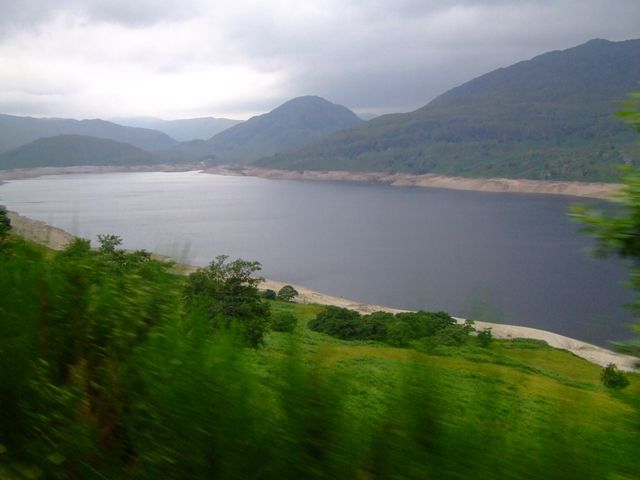 Loch Treig
By way of demonstration - 66734 Class 66 loco after being derailed at Loch Treig in 2012....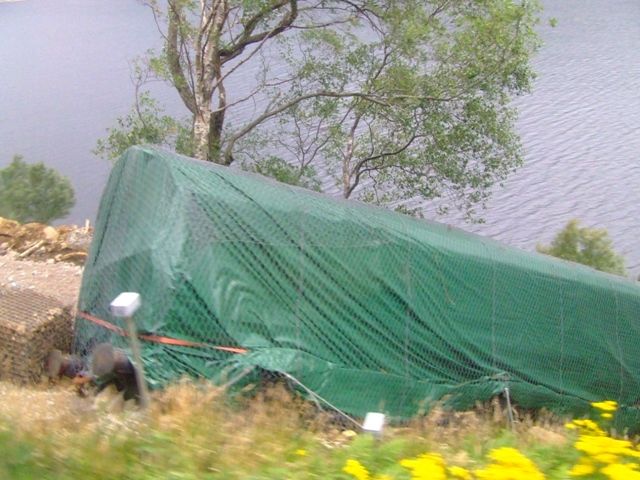 ....which at 130 tonnes is now in a bodybag and deemed logistically impossible to recover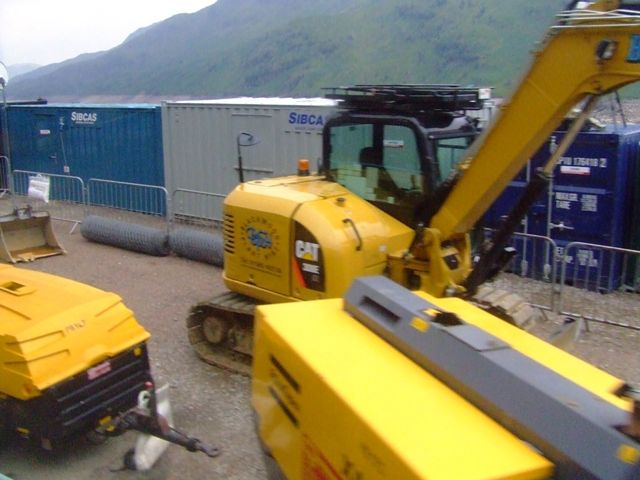 ....although they have recently built a new embankment and are possibly going to cut it up for scrap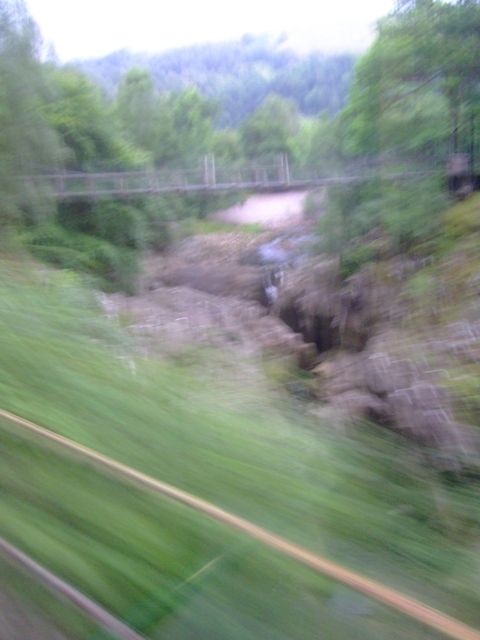 River Spean between Tulloch and Roy Bridge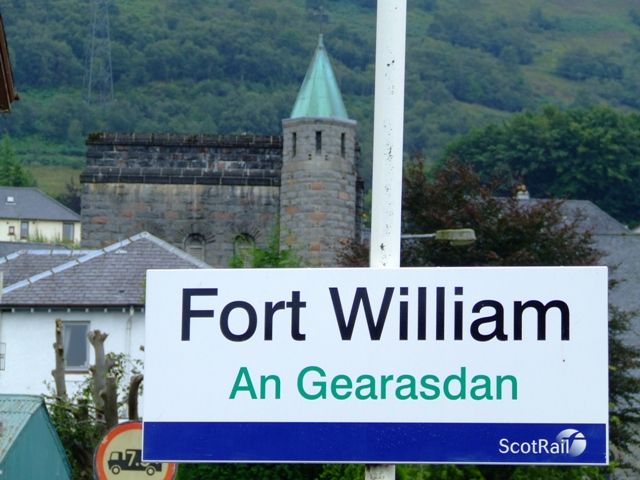 Fort William. (The tower of St. Mary's RC Church in the background)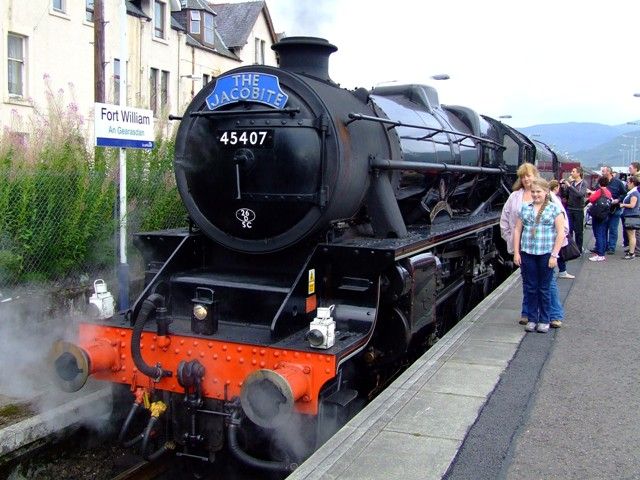 Time to switch to the Hogwart's Express or Jacobite steam train....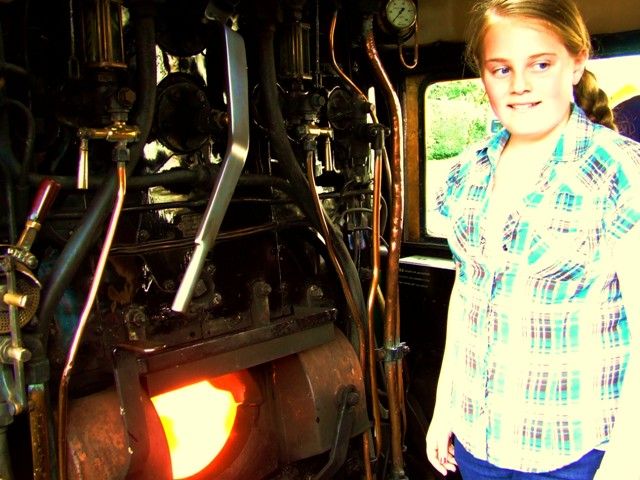 ....or 45407,
The Lancashire Fusilier
, a 1937 Black 5
Inverlochy castle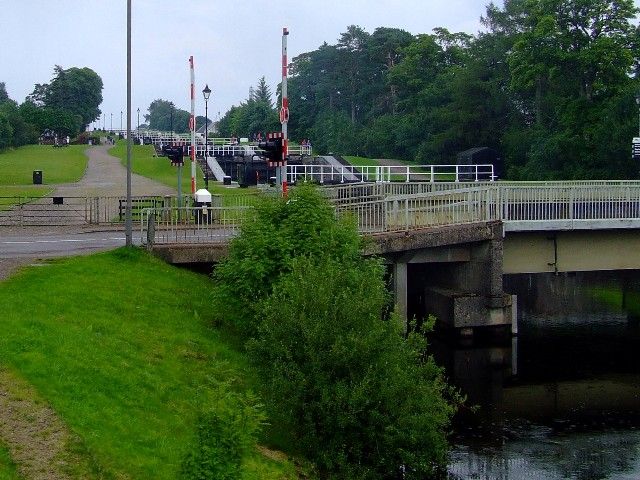 Neptune's Staircase at the start of the Caledonian canal....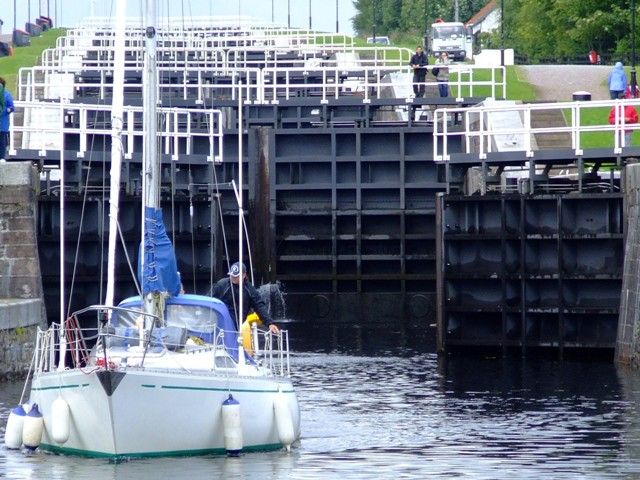 ....the longest staircase lock in the UK
Caledonian canal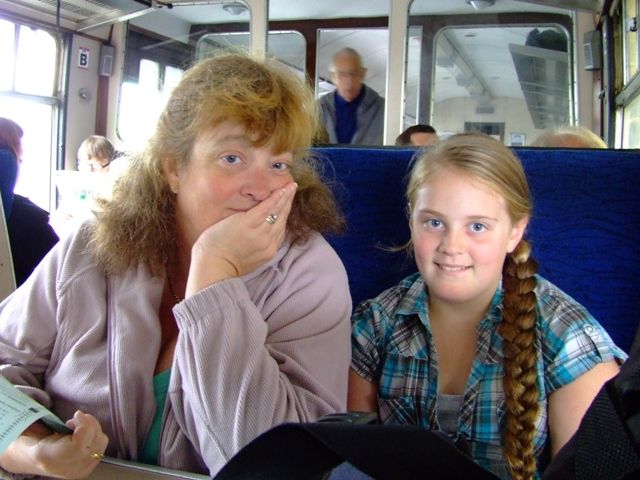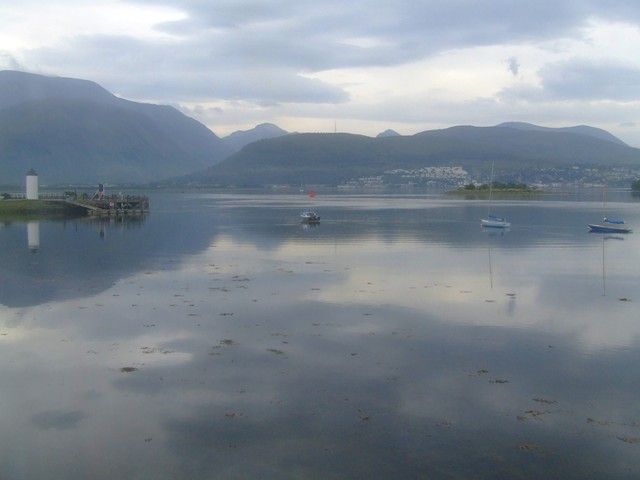 Loch Eil and Fort William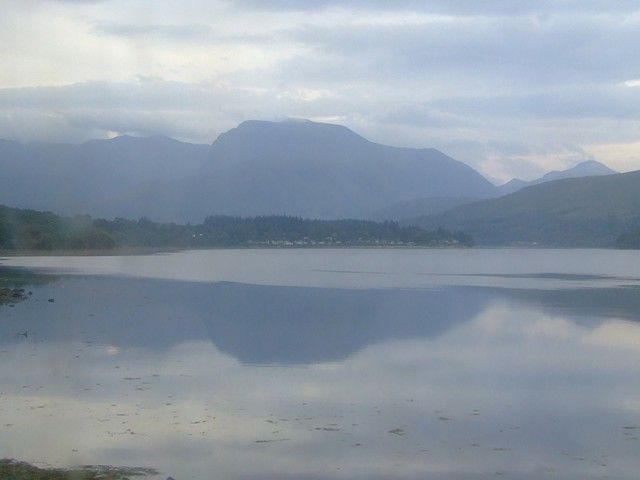 The big Ben across Loch Eil

The Jacobite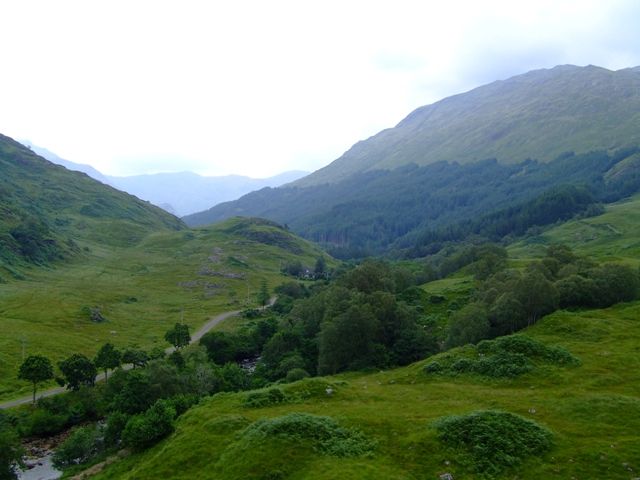 Between Fort William and Glenfinnan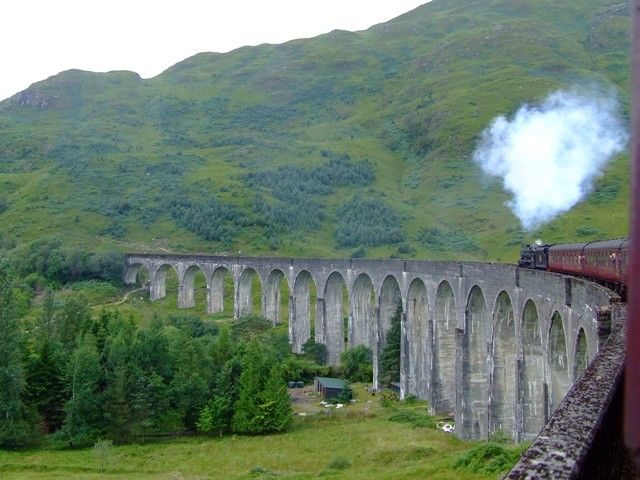 Glenfinnan viaduct, the famous curved viaduct over the river Finnan from the Harry Potter films.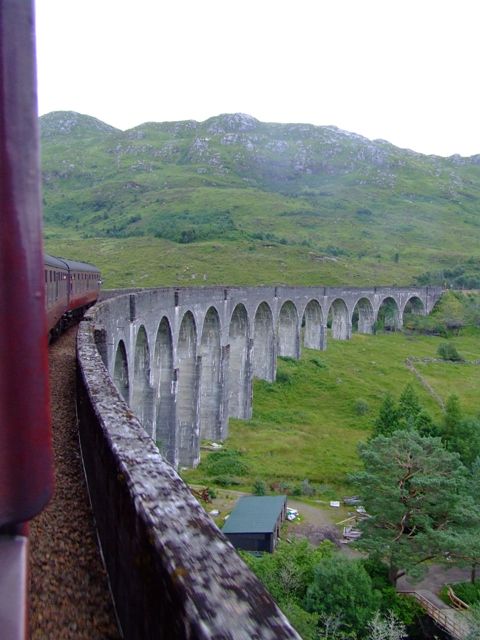 Built by Sir Robert McAlpine in the late 1890s, it is 21 arches and from unreinforced concrete. Compare this with the stone viaducts on the slightly earlier Settle to Carlisle photos

Snow-plough at Glenfinnan

Team Muz on tour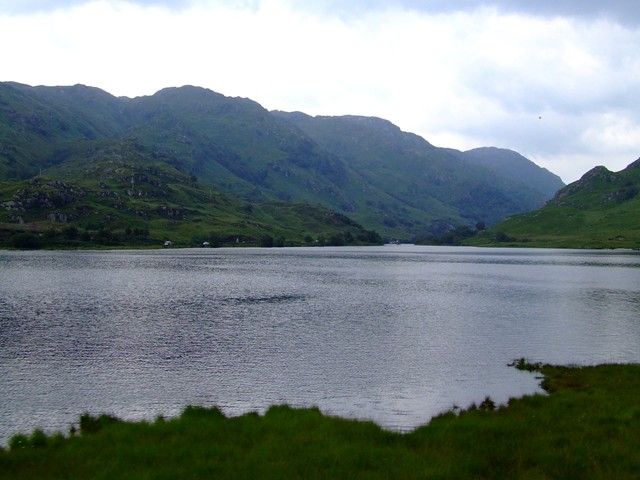 Loch Eilt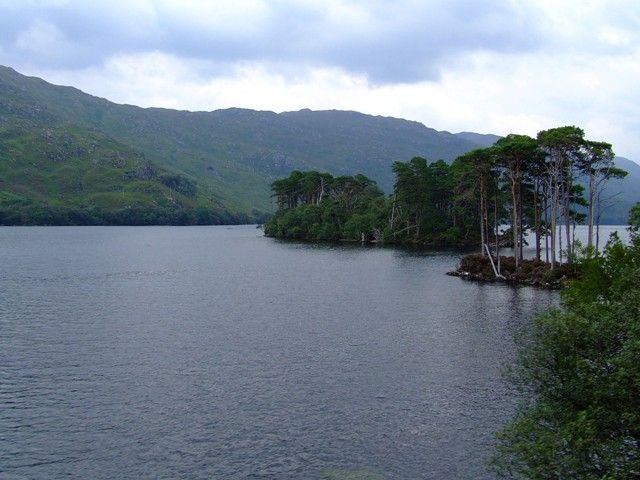 Loch Eilt
The Prince's Cairn....
....from where Bonnie Prince Charlie fled to France in 1746
River Morar, where Loch Morar flows out to sea....
....the deepest body of fresh water in the British Isles and, allegedly, home to
Morag
, the Morar monster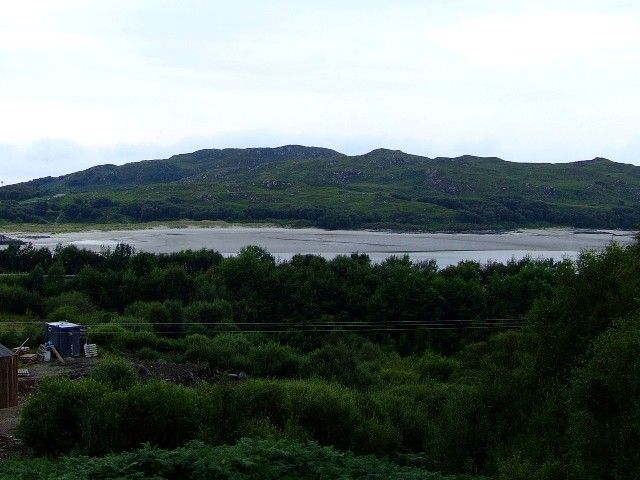 The silver sands of Morar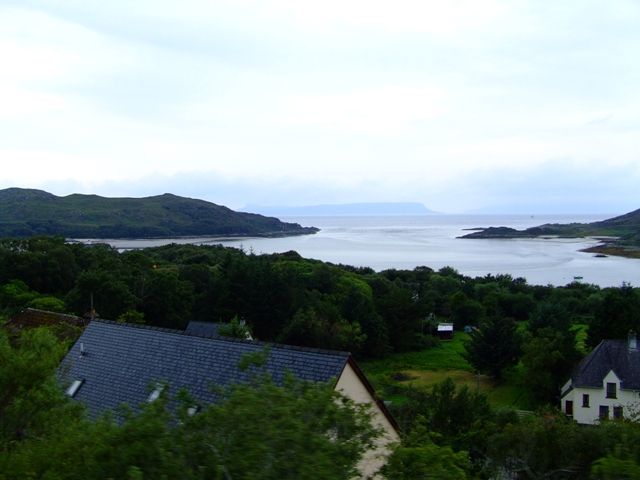 Morar bay
Mallaig, formerly the busiest herring port in Europe....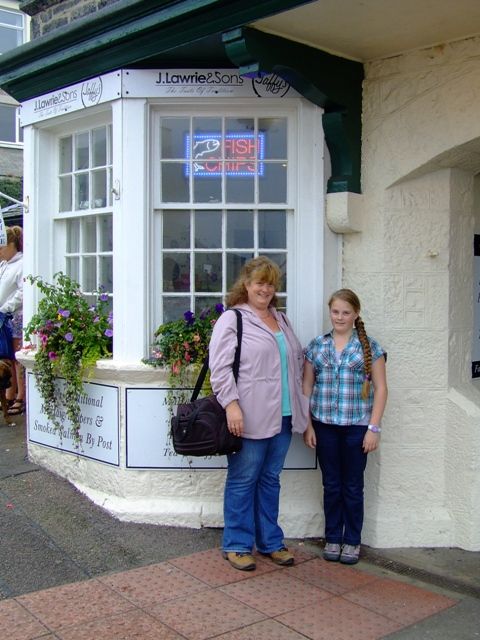 ....but now only Jaffy's (J. Lawrie & Sons) smokehouse remains....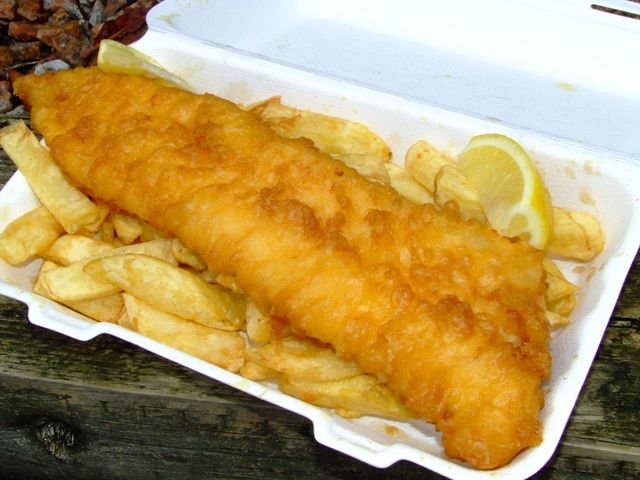 ....which is also a fish & chip shop – how convenient

Mallaig harbour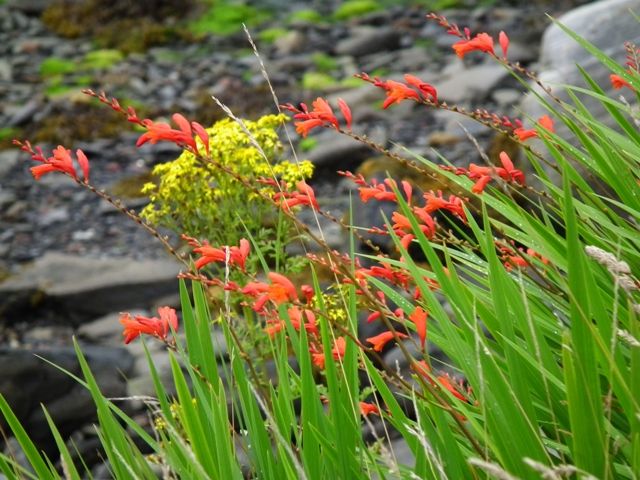 Mallaig
Mallaig harbour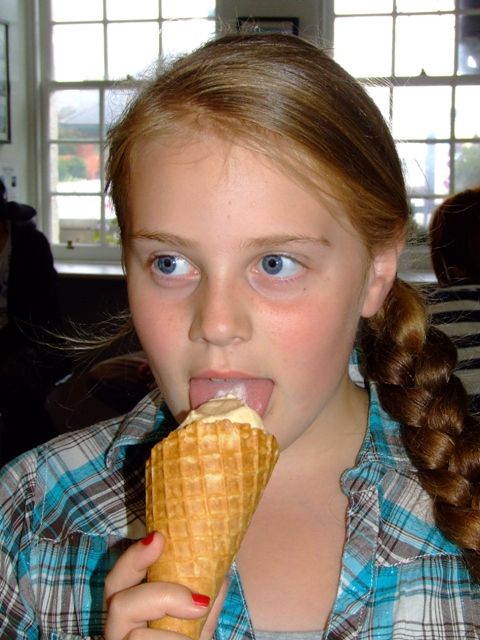 Oh yeah, never too cold for Mackie's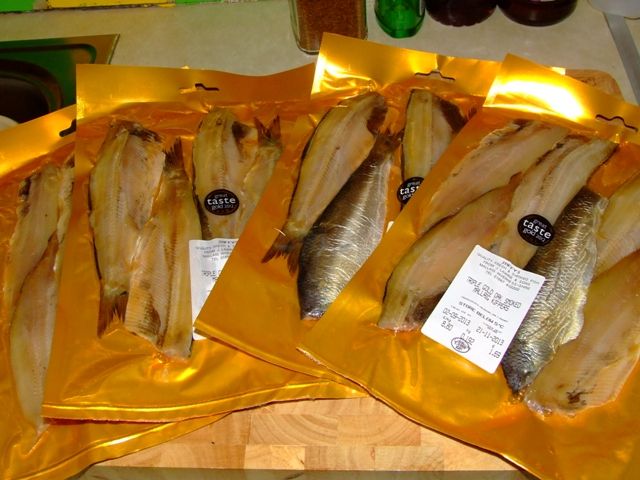 Well we've been to the Isle of Man a couple of times for the Manx kippers, we've been to Robson's at Craster, the Hebridean Smokehouse on the Isle of North Uist, the Port of Lancaster Smokehouse at Glasson Dock and the Loch Fyne Smokehouse in Argyll.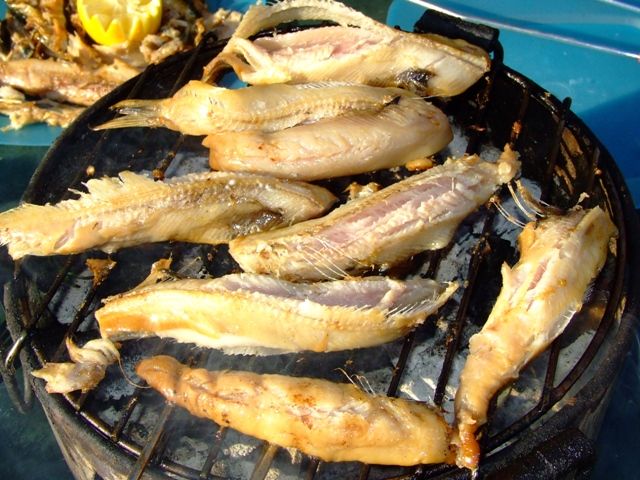 But, the best ones are really fat & oily, so barbecued....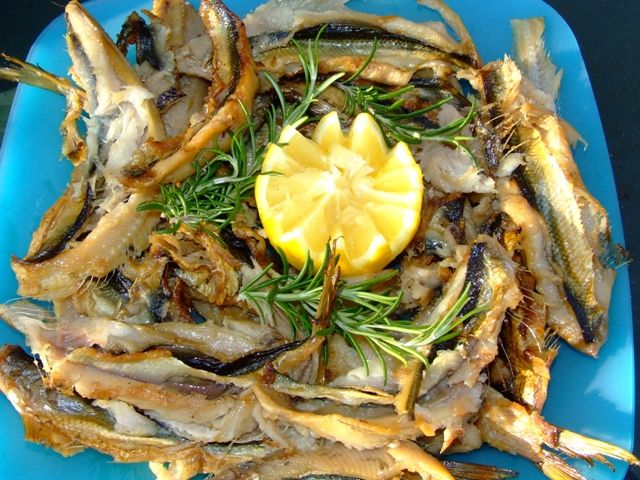 ....these triple-gold oak-smoked Mallaig kippers really do hit the spot

Oh, and for those of you who thought I'd go all that way and not even attempt the
Man vs Stag
challenge – well it would be rude not to

Bon appetit

Footnote – For the shots of the Settle to Carlisle line from a distance, taken over several weekends in July when it was sunny, remember that? (except one taken in February 2010, see if you can spot which one that might be

) – you've no idea how much trekking on foot I had to do, not to mention the general creativity which I reckon was well worth it

Try the circular walk from Little Salkeld to Glassonby Beck and then back via "Long Meg and Her Daughters" – definitely worth the effort

And, go to the Corrour Station House Restaurant with rooms. Just once. And then try to stay away