forum/viewtopic.php?f=37&t=65565&start=30#p633413
Rain or shine, I am offering to cook up some delicious food in a couple of dutch ovens, over charcoal, to share with whoever wants some. All from scratch - no "freeze at home and thaw on-site" nonsense... :p
To keep things simple, I am no longer proposing the "chicken and split pea stew" (although I will be making a pot of that for ourselves at some point, anyway!), so it's
Beef Chilli
for main (please make your own rice/pasta/tatties) and
Apple/Rhubarb Crumble
for pudding. I'll propose, as a first suggestion,
Saturday night, 7:30pm
.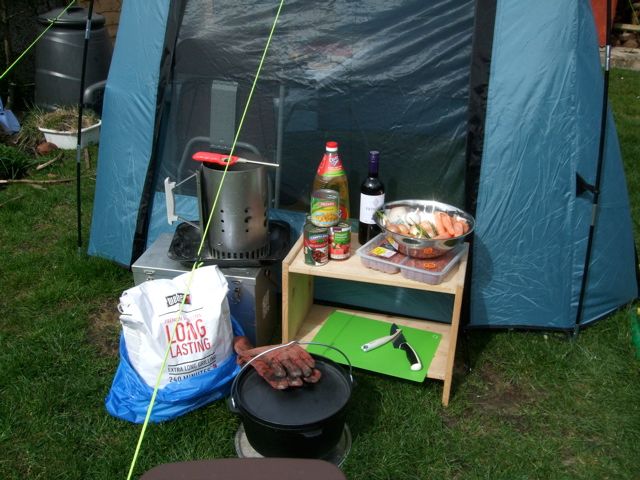 Could I get a show of hands to guage interest/quantities and whether you'd be willing to bring along a bag of a few ingredients to contribute? If I assume a good number of takers, and/or just go with as much as I think will fit in the pots, then the shopping list might be something like:
[*] charcoal (
Driver+Passengers
)
[*] 2 or 3 small bags of Lidl "just add water" bread mix
[*] 3kg beef mince (
Driver+Passengers
)
[*] 4 cans chopped tomatoes
[*] bottle of red wine (
Muz
)
[*] 3 cans beans (kidney or mixed), 1 large can sweetcorn
[*] 1kg+ onions, 1kg carrots
[*] head of celery, garlic, fresh chillis
[*] 8 cooking apples
[*] 4 large bunches rhubarb
[*] flour, oats/museli, sugar, butter
[*] 3 or 4 large cartons custard
If you want to copy/paste that shopping list in a post below, and put your name on one of the rows, then that would be great. I'm not going to be precious about who brings what, eats or doesn't. As long as there's enough to go round the folk that do chip in.